Australia's Leisel Jones announces retirement from competitive swimming
Last Updated: 16/11/12 8:43am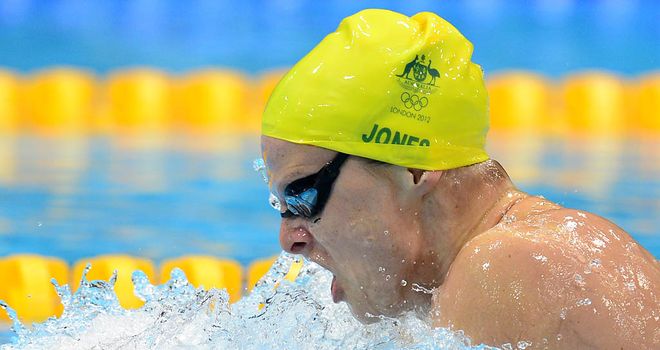 Leisel Jones: Retired from the pool
Arguably one of Australia's greatest-ever swimmers, Leisel Jones has announced her retirement from competitive swimming.
Jones, who won silver in the women's 4x100m medley at her fourth Olympic Games in London this year, announced her decision at a press conference.
Triple Olympic gold medallist Jones will leave the sport with the same number of Olympic medals as Ian Thorpe - nine. Her three gold came in the 4x100m medleys in Athens and Beijing, and also the 100m breaststroke in Beijing.
Jones was just 14 when she first burst onto the swimming scene but the now grown-up 27-year-old is ready to continue her professional career beyond the pool.
Jones said: "I have a natural competitive drive and I think that will carry through into whatever I do after swimming.
"Of course swimming will always be a big part of my life but I am extremely proud of my achievements. To represent Australia at four Olympic Games is something that is very humbling and each one holds different memories and significance for me.
"I have a natural competitive drive and I think that will carry through into whatever I do after swimming."
Leisel Jones
"I've basically grown up as a member of the Australian Swim Team, travelling the world competing, and I feel very honoured to have had so many wonderful opportunities and so much fantastic support along the way."
Leigh Nugent, Swimming Australia head coach, paid tribute to Jones, saying her longevity to swim in four Olympics was an inspiration to the next generation of swimmers.
Success
Nugent added: "Qualifying for her fourth Olympic Games was an outstanding achievement and just another milestone in what has been a remarkable career for Leisel.
"She is probably one of the fiercest competitors that we have ever seen, and her dominance at national and international level has been terrific.
"Leisel has inspired a whole generation of athletes with her success and hard work, and her contribution to swimming in Australia, especially breaststroke, will be her lasting legacy."
As well as her achievements in the Olympic pool, Jones also won 10 Commonwealth Games golds, seven World Championship and 23 national titles.