MLB: Orioles thriving
A review of Tuesday's action in the Major League Baseball
Last Updated: 05/09/12 9:29am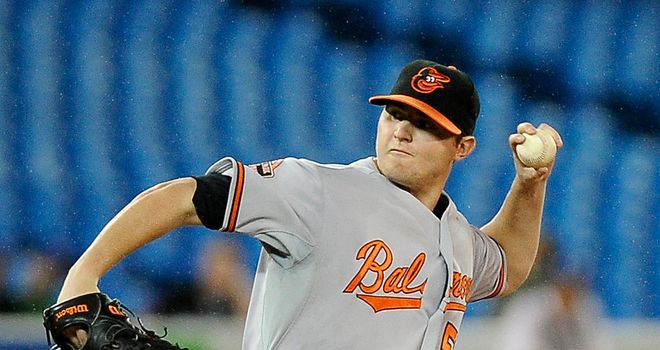 Britton: Top form for the Orioles
The Baltimore Orioles thrashed the Toronto Blue Jays 12-0 on Tuesday to earn a share of first place in the American League East after the New York Yankees went down 5-2 against the Tampa Bay Rays.
Left-hander Zach Britton pitched seven scoreless innings for the Orioles, limiting the Blue Jays to four hits, while Mark Reynolds drove in four including a three-run homer.
Baltimore (76-59) entered the clash trailing New York by one game, but the Yankees' third straight defeat - and fifth in their last six - saw them surrender sole possession of top spot.
Evan Longoria smacked a two-run homer, with BJ Upton and Desmond Jennings also hitting solo shots as the third-placed Rays moved within 1 1/2 games of the leading pair.
Elsewhere in the American League, the Minnesota Twins stunned the Central-leading Chicago White Sox 18-9 and the Kansas City Royals toppled the West-leading Texas Rangers 6-3.
Winning ways
The Boston Red Sox snapped a seven-game losing streak with a 4-3 triumph over the Seattle Mariners, while six solid innings from Justin Masterson lifted the Cleveland Indians to a 3-2 win over the Detroit Tigers and the Los Angeles Angels prevailed 6-1 against the Oakland Athletics.
In the National League, Adam LaRoche struck two of Washington's six homers and Ian Desmond drove in four runs as the Nationals established a season-high 7 1/2-game advantage atop the East with an 11-5 victory over the Chicago Cubs.
Jay Bruce's two-run go-ahead shot in the sixth inning proved decisive for the Central-leading Cincinnati Reds in a 2-1 win against the Philadelphia Phillies, but the West-leading San Francisco Giants went down 8-6 the Arizona Diamondbacks after the game went to 11 innings.
Jason Kubel's RBI triple at the top of the innings put his side in front before Miguel Montero's hit to centre field to send Kubel home sealed the win.
The Pittsburgh Pirates ended a four-game losing run with a 6-2 success against the Houston Astros, while the St Louis Cardinals overcame the New York Mets 5-1.
In other NL action, the Colorado Rockies saw off the Atlanta Braves 6-0 and
San Diego Padres won 6-3 at the Los Angeles Dodgers.