MLB: Trade pays off
New York Yankees lose to Cleveland, but Rays also slip up
Last Updated: August 26, 2012 9:27am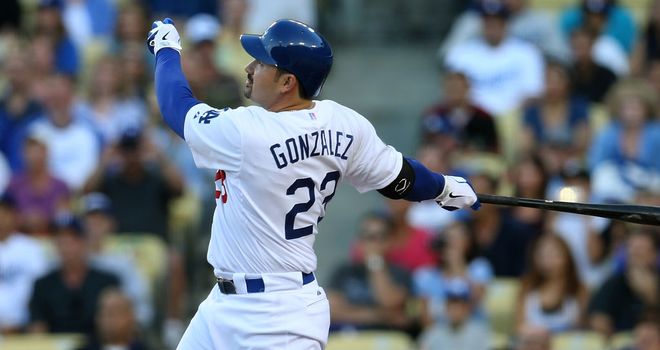 Adrian Gonzalez: made an instant impression for his new side, hitting a three-run homer
Adrian Gonzalez marked his debut for the Los Angeles Dodgers with a three-run homer in his new team's 8-2 victory over the Miami Marlins.
Gonzalez, pitcher Josh Beckett and outfielder Carl Crawford - who between them are on contracts worth 270 million US dollars - were all part of a blockbuster trade that saw them move from the Boston Red Sox to LA.
Six other players were involved in the deal, with Nick Punto also heading to LA as five Dodgers players moved to Fenway Park.
Boston duly lost on their first outing since blowing up their roster, frittering away a 9-3 lead in front of their home supporters to be edged out 10-9 by the Kansas City Royals. Mauro Gomez, in the Red Sox team to replace Gonzalez, hit his first career home run.
Brantley homer
Michael Brantley hit a three-run homer of his own to help the Cleveland Indians to a 3-1 win against the AL East-leading New York Yankees.
The Yankees were not weakened by the loss, as their closest rivals, the Tampa Bay Rays, slumped 4-2 to the Oakland Athletics.
At the top of the AL West, the Texas Rangers strode to a 9-3 win over the Minnesota Twins, the highlight provided by Mitch Moreland's giant 463-foot three-run homer in the second inning.
The Detroit Tigers were 5-3 winners against the Los Angeles Angels, the Baltimore Orioles trounced the Toronto Blue Jays 8-2, and the Chicago White Sox, who lead in the AL Central, won a fifth straight game as they overcame the Seattle Mariners 5-4.
In the National League, Jason Heyward's three-run homer helped the Atlanta Braves beat the San Francisco Giants 7-3. Atlanta stand second in the NL East, with San Francisco top in the West.
The Philadelphia Phillies toppled NL East front-runners the Washington Nationals, for whom a 4-2 defeat was a third in succession.
Nothing looks like stopping the Cincinnati Reds in the NL Central, and they returned to holding a seven-game lead over second-placed St Louis by beating the Cardinals 8-2.
The New York Mets saw off the Houston Astros 3-1, the Pittsburgh Pirates beat the Milwaukee Brewers 4-0, the Colorado Rockies defeated the Chicago Cubs 4-3, and the San Diego Padres earned a sixth straight win with a 9-3 success against the Arizona Diamondbacks.