MLB: Angels win thriller
Angels sweep Red Sox for first time since 2008
Last Updated: 24/08/12 11:26am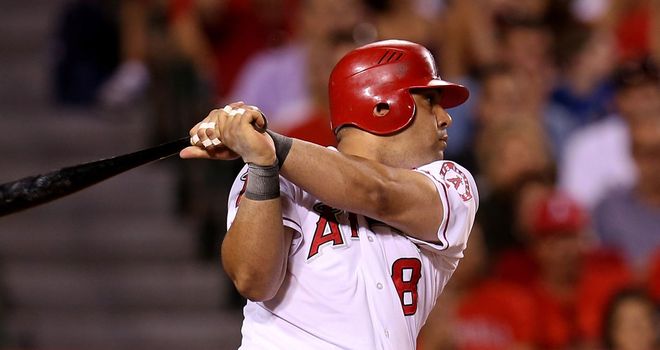 Kendrys Morales: Blasted a solo home run in Thursday's win
American Football Betting

American Football Betting

Free Matched Bet
The Los Angeles Angels eventually prevailed 14-13 in a thrilling encounter with the Red Sox to complete their first sweep in Boston since 2008.
In a clash that lasted over four-and-a-half hours, saw 15 pitchers used and 38 hits, the Angels won the contest in the 10th inning on the back of Kendrys Morales' solo home run and Vernon Wells' double.
The victory, which saw the Angels trailing 5-0 after the first inning before hitting back with an 8-0 run in the second, allowed LA to close the gap on second-placed Oakland in the American League West division with the Athletics losing to the Tampa Bay Rays.
All the runs in Tampa's 5-0 victory were scored in the fifth as Alex Cobb pitched his first major league shutout.
Tampa are now just 2 1/2 games adrift of the AL East-leading New York Yankees, who have lost their last three games.
Oakland's loss also saw them lose ground on the West leading Texas Rangers, who defeated the Minnesota Twins 10-6.
Texas took control of the game with a six-run eighth while Josh Hamilton scored five runs in the triumph to take over the AL RBI lead and Adrian Beltre hit his 23rd home run.
The National League West leading San Francisco Giants beat the Atlanta Braves 5-2 for a fourth successive win which extends their advantage over the Dodgers, who had the night off, to three games.
Also in the NL West, last-placed Colorado continued their good form with 1-0 win at the New York Mets, Chris Nelson's RBI single in the eighth proving the difference as the Rockies earned a fifth successive victory.
The St Louis Cardinals were big winners over NL Central rivals the Houston Astros despite trailing 3-0 heading into the fourth.
Allen Craig, with three hits and three RBIs, Matt Holliday, with four RBIs and David Freese, with a three-run homer, all contributed as the Cardinals claimed a 15-5 comeback triumph.
Also, the NL Central leading Cincinnati Reds were beaten 4-3 by the Philadelphia Phillies in the 11th while the Detroit Tigers clinched a 3-2 win over the Toronto Blue Jays in another game that was decided in the 11th.