MLB: Billingsley shines
Dodgers continue hot streak
Last Updated: 15/08/12 10:01am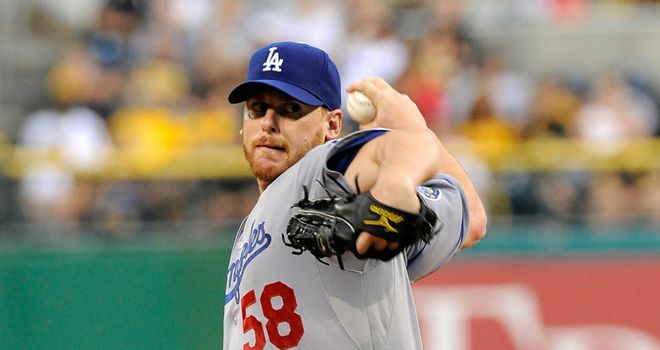 Chad Billingsley: pitched eight dominant innings in LA Dodgers' 11-0 victory over Pittsburgh Pirates
Chad Billingsley impressed as the LA Dodgers recorded their fifth win out of six games in emphatic style.
Billingsley pitched eight dominant innings as the National League West leaders matched their highest-scoring game of the season, inflicting an 11-0 defeat on the Pittsburgh Pirates - their fifth defeat in six games.
Jon Jay and Matt Holliday each homered to put the St Louis Cardinals out in front of the Arizona Diamondbacks with an 8-2 series-opening win, while Tim Hudson was frugal in the Atlanta Braves' 6-0 win over the San Diego Padres.
Jimmy Rollins homered on the second pitch of the Philadelphia Phillies game against the Miami Marlins, providing the only offense in a Kyle Kendrick-Josh Johnson duel.
Walk-off homer
Jay Bruce hit a walk-off homer in the ninth inning of a 3-0 success over the New York Mets which gives the Cincinnati Reds a fourth successive victory.
The Chicago Cubs were no match for the Houston Astros, who won 10-1 at Wrigley Field, while the Detroit Tigers beat the Minnesota Twins - who did all their scoring in the third - 8-4.
A 4-0 eighth inning set up the San Francisco Giants' 6-1 win over the Washington Nationals - but a 3-0 final inning could not rescue the Milwaukee Brewers from an 8-6 loss to the Colorado Rockies.
In the American League, Jose Quintana recorded his first victory since July 5 as the Chicago White Sox beat the Toronto Blue Jays 3-2.
Mark Reynolds went deep twice, Omar Quintanilla added a solo homer and Wei-Yin Chen surrendered just one run over six-plus frames as the Baltimore Orioles downed the Boston Red Sox 7-1.
Nick Swisher snapped a scoreless tie with a seventh-inning homer as the New York Yankees sunk the Texas Rangers 3-0, while all the scoring in the Kansas City Royals' 5-0 win over the Oakland Athletics came in the fifth inning.
Elsewhere, the Seattle Mariners beat the Tampa Bay Rays 3-2 and the LA Angels defeated the Cleveland Indians 9-6.