MLB: Yankees upset Tigers
Detroit's 10-game home winning streak comes to an end
Last Updated: 09/08/12 8:45am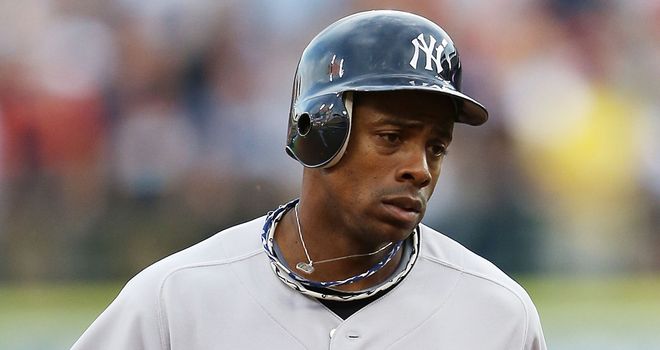 Curtis Granderson: Drove in four runs for the Yankees
The New York Yankees ended the Detroit Tigers' 10-game home winning streak with a 12-8 victory at Comerica Park on Wednesday.
Curtis Granderson drove in four for the American League East leaders, including a three-run shot for his 30th homer.
His efforts ensured Detroit fell short in pursuit of their seventh straight Major League win despite hitting back strongly from an early 7-0 deficit.
Elsewhere, a go-ahead sacrifice fly in the ninth inning from Adrian Beltre lifted AL West leaders Texas to a 10-9 success against the Boston Red Sox.
Josh Hamilton, Mitch Moreland, Nelson Cruz and Geovany Soto all homered for the Rangers.
The AL Central-leading Chicago White Sox went down 2-1 against Kansas City, Jeremy Guthrie pitching eight scoreless innings for the Royals, while Chris Carter's two-run homer in a five-run sixth inning spurred the Oakland Athletics to a 9-8 win over the Los Angeles Angels.
Also in the American League, the Baltimore Orioles trounced the Seattle Mariners 9-2, the Tampa Bay Rays edged the Toronto Blue Jays 3-2 and the Cleveland Indians overcame the Minnesota Twins 6-2.
Clubbed
In the National League, Gio Gonzalez clubbed his first career home run and threw a nine-inning complete game as East division leaders, Washington Nationals, defeated the Houston Astros 4-3.
Ryan Braun's run-scoring double in the eighth inning helped the Milwaukee Brewers scrape past the NL Central-leading Cincinnati Reds 3-2.
The New York Mets slumped to an emphatic ninth consecutive home defeat, losing 13-0 against Miami. Giancarlo Stanton hit two home runs and Jose Reyes contributed another for the Marlins.
Marco Scutaro hit a career-high seven runs, including a grand slam, as the San Francisco Giants, the NL West leaders, hammered the St Louis Cardinals 15-0, while Clayton Richard's second career shutout helped the San Diego Padres sink the Chicago Cubs 2-0.
In other National League games, the Atlanta Braves overcame the Philadelphia Phillies 12-6, the Pittsburgh Pirates beat the Arizona Diamondbacks 7-6 and the Los Angeles Dodgers were 6-2 winners against the Colorado Rockies.