MLB: Tigers edge Yankees
A review of Tuesday's Major League Baseball action
Last Updated: 08/08/12 7:40am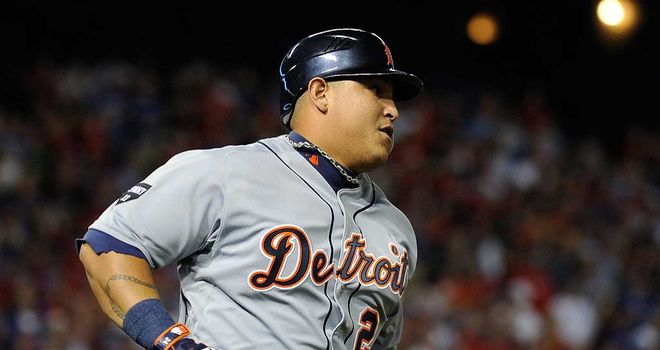 Miguel Cabrera: 29th solo homer of the year
Miguel Cabrera hit his 29th solo homer of the year as the Detroit Tigers made it six wins on the spin with a 6-5 success over the New York Yankees.
Cabrera also knocked in three runs while Rick Porcello allowed three runs over 6 2/3 innings to lift the Tigers within a half-game of the Chicago White Sox at the AL Central summit.
The White Sox went down 5-2 at home against Kansas City , Billy Butler capping the triumph with his career-high 22nd homer in the seventh inning.
Ian Kinsler, Josh Hamilton and Nelson Cruz had two hits apiece in the AL West-leading Texas Rangers' 6-3 triumph over Boston - the Red Sox's fifth defeat in seven games - while the Oakland Athletics trounced the Los Angeles Angels 10-4.
Elsewhere in AL action, the Baltimore Orioles edged the Seattle Mariners 8-7 in 14 innings, the Minnesota Twins beat the Cleveland Indians 7-5 and the Tampa Bay Rays got past the Toronto Blue Jays 4-1.
In the National league, Cole Hamels' fifth career shutout helped the Philadelphia Phillies post a 3-0 victory over Atlanta, snapping a seven-game losing run against the Braves.
Hamels struck out six after Ryan Howard's two-run homer in a three-run third inning had set things up for the Phillies at Citizens Bank Park.
The NL East-leading Washington Nationals enjoyed their fourth consecutive win - 4-3 thanks to Danny Espinosa's RBI single in the top of the 12th inning against the Astros in Houston.
Chris Johnson belted a go-ahead three-run homer in the eighth inning and added a two-run blast in the ninth to spur the Arizona Diamondbacks to a 10-4 win over the Pirates in Pittsburgh, while Buster Posey's three-run homer in the first innings set the San Francisco Giants on their way to a 4-2 victory over the St Louis Cardinals.
Finally, the NL Central-leading Cincinnati Reds suffered their third straight loss in a 3-1 reverse against the Milwaukee Brewers, the Miami Marlins were 4-2 winners against the New York Mets, the San Diego Padres saw off the Chicago Cubs 7-4 and the Colorado Rockies overcame the Los Angeles Dodgers 3-1.