MLB: Moss the boss
Oakland see off Yankees
Last Updated: July 21, 2012 1:22pm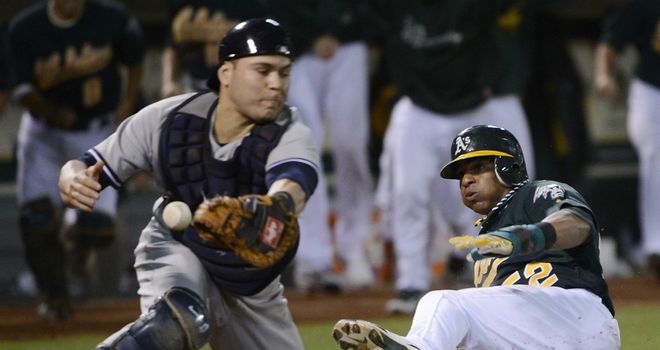 Winning run: Oakland's Yoenis Cespedes slides into home from Brandon Moss' RBI single
The Oakland Athletics clinched a 3-2 victory over the American League East-leading New York Yankees on Friday night with a walk-off single by Brandon Moss.
The A's opened the series on Thursday with a 4-3 success, ending their nine-game skid against the Yankees at the Oakland Coliseum, and Moss ensured it was two wins in as many nights by singling home Yoenis Cespedes after Robinson Cano had tied the game with a solo home run in the top of the ninth inning.
Toronto snapped a three-game losing streak with a 6-1 triumph over the Boston Red Sox, Aaron Laffey throwing seven scoreless innings for the Blue Jays.
Justin Verlander went eight strong innings for Detroit as the Tigers closed to within a half-game of AL Central-leading Chicago by beating the White Sox 4-2.
Jim Thome passed Sammy Sosa on the all-time home runs list by hitting his 610th career homer in the Baltimore Orioles' 10-2 victory against the Cleveland Indians.
In other American League games on Friday, the West-leading Texas Rangers lost 5-1 against the Los Angeles Angels, the Tampa Bay Rays edged the Seattle Mariners 4-3 in 14 innings and the Minnesota Twins were 2-1 winners in 11 against the Kansas City Royals.
Braves comeback
National League East-leading Washington lost for the second straight night as the second-placed Atlanta Braves overturned a nine-run deficit to win 11-10 in 11 innings.
Paul Janish's run-scoring bloop single sealed the comeback win and pulled the Braves to within 2 1/2 games of the Nationals at the summit.
Brandon Crawford's second career grand slam lifted the NL West-leading San Francisco Giants to a 7-2 success against the Philadelphia Phillies.
Homer Bailey allowed only one run over eight innings and struck out 10 to help the NL Central-leading Cincinnati Reds to a 3-1 win over the Milwaukee Brewers, while Matt Holliday smashed the longest home run at Busch Stadium - estimated at 469 feet - as the St Louis Cardinals defeated the Chicago Cubs 4-1.
Elsewhere, the San Diego Padres saw off the Colorado Rockies 9-5, the Arizona Diamondbacks beat the Houston Astros 13-8, the Los Angeles Dodgers scraped past the New York Mets 7-6 and the Pittsburgh Pirates prevailed 4-3 against the Miami Marlins.