MLB: Verlander bounces back
Verlander shines with eight scoreless innings
Last Updated: 16/07/12 8:30am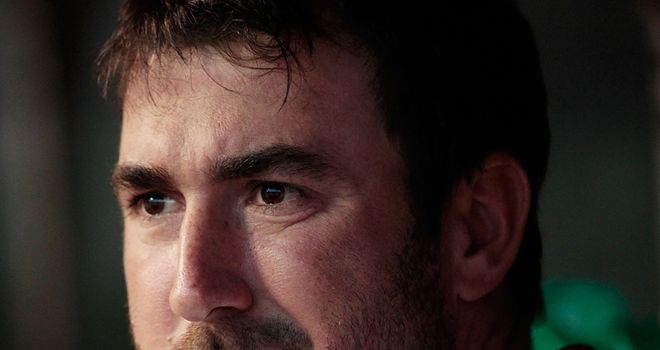 Justin Verlander: Helped the Detroit Tigers to victory
Justin Verlander put his All-Star Game nightmare behind him with eight scoreless innings to lead the Detroit Tigers to a 4-0 win over the Baltimore Orioles.
Verlander, who started and lost the Midsummer Classic as he surrendered five runs in his one inning, was at his dominant best against the Orioles, striking out eight while allowing three hits and two walks.
Austin Jackson and Miguel Cabrera, with his 20th long ball of the season, homered for the Tigers.
Homer Bailey threw eight strong innings to lead the Cincinnati Reds to a 4-2 win over the St Louis Cardinals and a three-game sweep of their National League Central rivals.
On nine hits and two walks, Bailey allowed two runs, one of which - in the form of Yadier Molina's 11th homer or the season - was earned.
Scott Rolen drove in the winning runs in eighth inning with a two-run single, snapping a 2-2 tie.
Ben Sheets threw six scoreless innings in his first Major League start for two years, striking out five and giving up two hits as the Atlanta Braves beat the New York Mets 6-1.
Freddie Freeman hit a three-run shot for the Braves.
Mike Harrison pitched a complete-game shut-out for his 12th win of the season as the Texas Rangers beat the Seattle Marines 4-0.
Harrison struck out four, surrendering five hits and four walks, and got support from Ian Kinsler and Adrian Beltre, who had a home run and three hits respectively.
Yovani Gallardo struck out a career-high 14 as the Milwaukee Brewers beat the Pittsburgh Pirates 4-1.
Gallardo allowed four hits and did not walk a batter in his seven innings of one-run ball, while Martin Maldonado paced the Milwaukee offence with three hits and an RBI.
Mark Trumbo's 24th home run of the season was one of four long balls for the Los Angeles Angels as they beat the New York Yankees 10-8.
Mike Aviles and Daniel Nava homered to give Josh Beckett his first win in nearly two months as the Boston Red Sox beat the Tampa Bay Rays 7-3
The San Diego Padres capitalised on five errors by the Los Angeles Dodgers, scoring six unearned runs on their way to a 7-2 win.
Carlos Villanueva tossed six shut-out frames in the Toronto Blue Jays' 3-0 win over the Cleveland Indians and Steven Strasbourg did likewise as the the Washington Nationals overcame the Miami Marlins 4-0.
Chris Sale threw eight innings of one-run ball to help the Chicago White Sox edge out the Kansas City Royals 2-1, a feat matched by Cole Hamels in the Philadelphia Phillies' 5-1 victory over the Colorado Rockies.
The Oakland Athletics beat the Minnesota Twins 9-4, the Chicago White Sox were 3-1 winners over the Arizona Diamondbacks and the San Francisco Giants overcame the Houston Astros 3-2.