Cabrera leads All-Star rout
American League blown away in Kansas City
Last Updated: 11/07/12 7:16am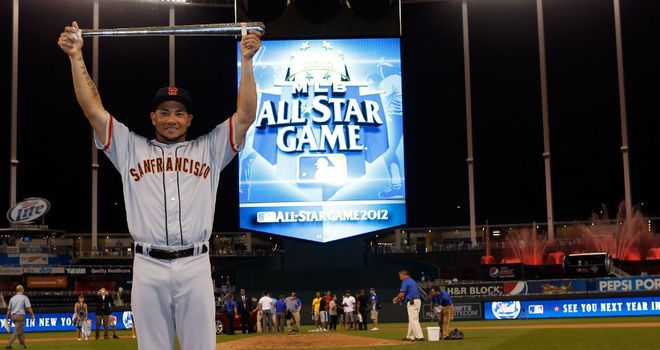 Melky Cabrera: Celebrates his Most Valuable Player award
Melky Cabrera smashed a two-run homer as the National League beat the American League 8-0 in Kansas City.
It was the NL's third straight victory and one of the most comprehensive wins in All-Star Game history.
It was a day to forget for AL starter Justin Verlander, who surrendered five runs in one inning, including a three-run bases-clearing triple from Pablo Sandoval.
The NL had another big inning in the fourth, when Matt Holliday drove in Rafael Furcal and Cabrera took Matt Harrison deep as the AL surrendered three more.
The AL got six hits, including one from 20-year-old rookie Mike Trout who became the third youngest player to get a hit in an All-Star Game, but could not get on the board.
The NL's Bryce Harper, who at 19 was the youngest position player ever to be named an All Star, walked and struck out as well as having a shaky moment in the outfield when he lost Mike Napoli's pop-up.
The ball landed behind him, allowing the catcher to reach base, but it did not prove costly as the NL romped to their biggest ever victory.
With two hits including a homer, two runs and two RBI, San Francisco Giants outfielder Cabrera was named the Most Valuable Player.
The win also means the NL team will begin with home-field advantage in the World Series.