MLB: Sweep for White Sox
A review of Thursday's action in the Major League Baseball
Last Updated: July 6, 2012 7:44am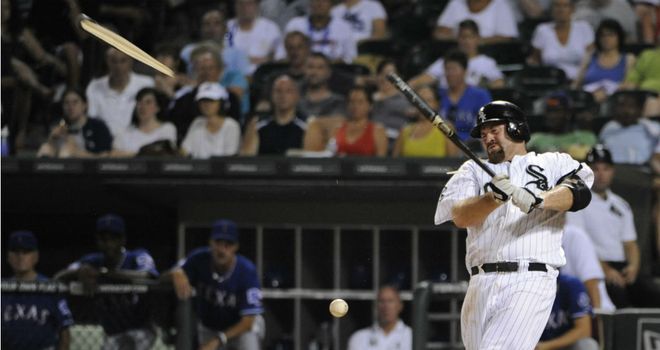 Kevin Youkilis: Delivered his second straight game-winning hit
Kevin Youkilis delivered his second straight game-winning hit on Thursday as the Chicago White Sox completed a three-game sweep of the Texas Rangers with a 2-1 victory.
Youkilis' home run in the sixth at US Cellular Field proved decisive, while rookie Jose Quintana also played a starring role by throwing eight solid innings to ensure Texas were swept for the first time since June 2011.
Prince Fielder's three-run homer in the eighth inning lifted the Detroit Tigers to a 7-3 win against the Minnesota Twins and Eric Hosmer drove in three runs as the Kansas City Royals earned a series split with Toronto by beating the Blue Jays 9-6.
The Los Angeles Angels toppled the Baltimore Orioles 9-7, while the Cleveland Indians edged the Tampa Bay Rays 3-1.
Triumph
National League East leaders Washington Nationals rallied to secure a three-game sweep of the San Francisco Giants with a 6-5 victory.
Rookie Bryce Harper tied the game with his second RBI hit of the night in the bottom of the ninth and then completed the turnaround with the winning run.
The New York Mets also clinched a late 6-5 win, David Wright's single in the bottom of the ninth sealing a walk-off triumph over East rivals the Philadelphia Phillies.
Mike Minor gave up three runs on three hits over 6 1/3 innings to help the Atlanta Braves overcome the Chicago Cubs 7-3 while Jeff Karstens went eight shutout innings in the Pittsburgh Pirates' 2-0 win against the Houston Astros.
Finally, the Los Angeles Dodgers were 4-1 winners against the Arizona Diamondbacks, the St Louis Cardinals defeated the Colorado Rockies 6-2, Miami Marlins saw off the Milwaukee Brewers 4-0 and the San Diego Padres squeezed past the Cincinnati Reds 2-1.