MLB: Hill's second cycle
Knuckleballer RA Dickey becomes first pitcher to 12 wins
Last Updated: 30/06/12 10:09am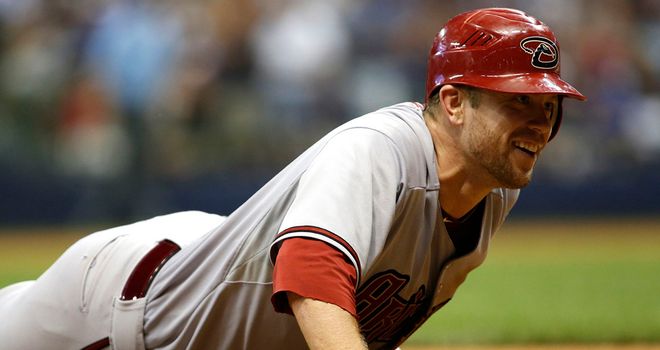 Aaron Hill: homered in the fourth innings of his side's win over the Brewers
Aaron Hill hit 'for the cycle' for the second time in two weeks to help the Arizona Diamondbacks to a 9-3 win over the Milwaukee Brewers.
The second baseman doubled in the first, singled in the third, homered in the fourth and tripled in the sixth, becoming the first man to achieve the feat twice in a season since 1931.
Paul Goldschmidt hit a three-run homer for the Diamondbacks and was himself a triple shy of completing the cycle.
Aaron Cook needed just 81 pitches for his third career shutout as the Boston Red Sox beat the Seattle Mariners 5-0.
The Red Sox scored all their runs on home runs as Will Middlebrooks, Cody Ross and Daniel Nava each hit solo shots in the fifth and Jarrod Saltalamacchia added a two-run effort in the sixth, all off starter Hector Noesi.
Morse's code
Michael Morse hit a solo homer in the eighth after Washington had blown a four-run lead to help the Nationals to a 5-4 win over the Atlanta Braves.
After hurling six scoreless innings, Ross Detwiler was charged with four in the seventh, including a two-run shot from Andrelton Simmons, but Morse rescued the Nationals.
AJ Pierzynski smacked two of the Chicago White Sox's four homers in a 14-7 win over the New York Yankees, with Paul Konerko and Alexei Ramirez managing the others.
Desmond Jennings also homered twice - off pitcher Justin Verlander - to help the Tampa Bay Rays beat the Detroit Tigers 4-2.
Knuckleballer RA Dickey was back to his best as he became the first pitcher to 12 wins this season, striking out 10 as the New York Mets overwhelmed the Los Angeles Dodgers 9-0.
The Texas Rangers scored four times in the eighth as they rallied to beat the Oakland Athletics 4-3 and give Matt Harrison his 11th win of the season.
Complete game
Mike Leake threw eight scoreless innings before surrendering a solo shot to Pablo Sandoval, but still threw a complete game in the Cincinnati Reds' 5-1 victory over the San Francisco Giants.
The Chicago Cubs registered a 4-0 triumph over the Houston Astros while Adam Lind cracked two homers and drove in four as the Toronto Blue Jays beat the Los Angeles Angels 7-5.
Jeff Francis got his first win of the season as the Colorado Rockies beat the San Diego Padres 10-2 and the Pittsburgh Pirates had 19 hits and four homers in a 14-5 win over the St Louis Cardinals.
Elsewhere, the Miami Marlins beat the Philadelphia Phillies 6-2, the Baltimore Orioles edged out the Cleveland Indians 9-8 and the Kansas City Royals were 4-3 winners over the Minnesota Twins.