MLB: Lincecum inspires Giants
A review of Wednesday's action in the Major League Baseball
Last Updated: June 28, 2012 7:07am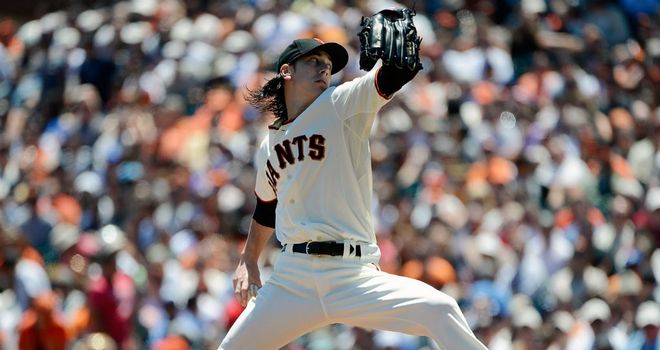 Tim Lincecum: Helped the Giants to victory
Tim Lincecum rediscovered his form after hurling seven shutout innings as the San Francisco Giants beat the Los Angeles Dodgers 4-0.
The two-time National League Cy Young winner has struggled so far this season but looked back to his old self as he scattered four hits and struck out eight, walking two.
The win, which was sealed with the help of two RBI from Angel Pagan, was Lincecum's first since April 28.
Lucas Harrell threw his first complete-game shut-out to lead the Houston Astros to a 1-0 win over the San Diego Padres.
Harrell allowed six hits and struck out seven to pick up the win, inflicting a tough-luck loss on Clayton Richard who allowed just two hits and did not walk a batter in seven innings.
One of those two hits was a solo homer from Matt Downs, the only offence for either side.
Robinson Cano homered once again to lift the New York Yankees to their fifth straight win, 5-4 over the Cleveland Indians.
The two-run shot was Cano's seventh homer in his last 10 games and his 10th in June.
Mike Trout produced an over-the-wall grab to deny JJ Hardy a certain home run and help the Los Angeles Angels beat the Baltimore Orioles 13-1.
Homered
Trout also scored three times on four hits, but it was his momentum-shifting catch which really stole the show.
David Ortiz belted his 399th career homer and the Boston Red Sox scored six times in the first inning en route to a 10-4 win over the Toronto Blue Jays.
The Chicago White Sox produced 21 hits and Kevin Youkilis drove in a pair in a 12-5 win over the Minnesota Twins.
Daniel Murphy hit his first home run in nearly a year, and then hit another for good measure, as the New York Mets crushed the Chicago Cubs 17-1.
David Murphy also homered twice as the Texas Rangers beat the Detroit Tigers 13-9 in another wild game.
Chase Utley blasted a solo homer on his return to the Philadelphia Phillies line-up, but it was not nearly enough as the Pittsburgh Pirates got long balls from Michael McKenry, Casey McGehee and Andrew McCutchen for an 11-7 win.
Chipper Jones launched a two-run blast to seal a 6-4 win for the Atlanta Braves over the Arizona Diamondbacks and the Kansas City Royals completed a three-game sweep of the Tampa Bay Rays with a 5-4 win.
The Milwaukee Brewers beat the Cincinnati Reds 8-4, the Oakland Athletics were 2-1 winners over the Seattle Mariners, the Miami Marlins saw off the St Louis Cardinals 5-3 and the Washington Nationals overcame the Colorado Rockies 11-5.