MLB: Dodgers beaten again
Oakland complete three-game sweep of NL West leaders
Last Updated: June 22, 2012 9:37am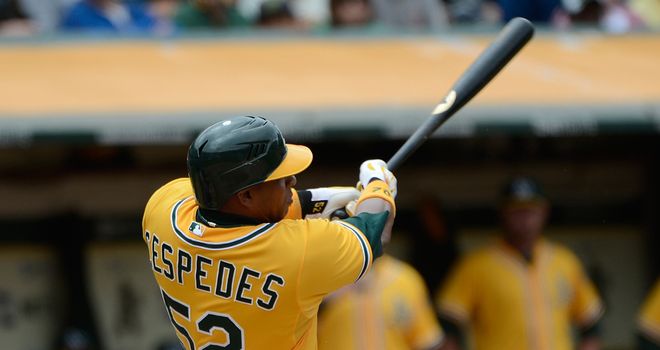 Yoenis Cespedes smashes his home run
National League West leaders the Los Angeles Dodgers were beaten 4-1 as the Oakland Athletics completed a three-game Major League sweep.
Yoenis Cespedes launched a three-run walk-off homer to settle Thursday's game in the A's favour by the same scoreline for the second game in succession.
Meanwhile, the Pittsburgh Pirates closed to within two games of National League Central leaders the Cincinnati Reds with a thumping 9-1 win over the Minnesota Twins.
James McDonald threw a complete-game win and was backed by home runs from Rod Barajas, Garrett Jones and Pedro Alvarez.
Struggled
The St Louis Cardinals were edged out 2-1 by the Detroit Tigers after Quintin Berry's walk-off single in the first extra inning scored Ramon Santiago.
Will Middlebrooks drove in four runs, including a two-run homer in the eighth inning, as the Boston Red Sox completed a sweep of the Miami Marlins.
The Sox edged home 6-5 despite trailing 3-0 after the first inning as starting pitcher Daisuke Matsuzaka struggled early on.
They gained a game on Tampa Bay in the American League East after the Rays were beaten 5-2 by the Washington Nationals.
The Colorado Rockies beat the Philadelphia Phillies 4-1 in the night's other game.