MLB: D-Backs on song
Six players hit home runs as Mariners are sunk
Last Updated: 21/06/12 8:05am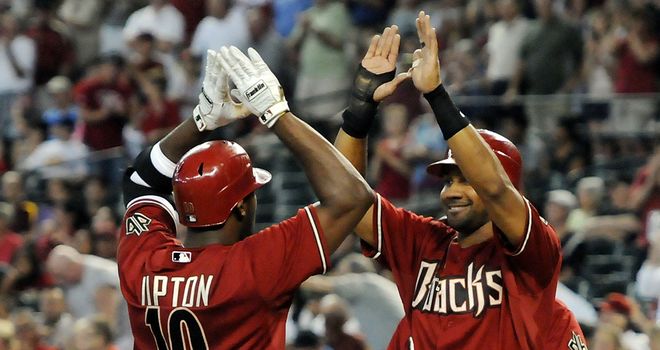 Justin Upton celebrates with Chris Young
The Arizona Diamondbacks went home-run crazy as they beat Seattle 14-10 on Wednesday in Major League Baseball.
No fewer than six D-Backs players hit homers to sink the Mariners.
Trailing 5-2 after three innings, the D-Backs blasted 12 runs in the next three after Justin Upton silenced his critics with a three-run homer.
Aaron Hill, Jason Kubel, Miguel Montero and John McDonald also cleared the wall while Ryan Roberts added an inside-the-park home run.
In another inter-league Western division match-up, Yu Darvish struck out eight in eight innings of two-run ball - and added his first career hit - as the Texas Rangers beat the San Diego Padres 4-2 to complete a series sweep.
The Los Angeles Angels, second behind the Rangers in the American League West, beat the San Francisco Giants 6-0 as Jered Weaver returned from injury to pitch six scoreless innings.
The third-placed Oakland Athletics were also victorious, downing the Los Angeles Dodgers 4-1.
The Washington Nationals remain three games clear at the top of the National League East after both they and nearest pursuers the New York Mets enjoyed narrow wins.
Washington saw off the Tampa Bay Rays 3-2, Stephen Strasburg striking out 10 in seven innings, while the Mets were 4-3 winners against the Baltimore Orioles and were within two innings of a third straight shut-out.
Slugfest
The third-placed Atlanta Braves came out on top in a slugfest against the New York Yankees, Jason Heyward hitting two of their five home runs in a 10-5 success.
The Yankees were well beaten despite four yard balls of their own but remain top of the American League East, with Baltimore and Tampa failing to make up ground.
The Boston Red Sox hit four home runs including a grand slam from David Ortiz in a 15-5 hammering of the Miami Marlins, while the Toronto Blue Jays were beaten 8-3 by the Milwaukee Brewers.
The Chicago White Sox averted a series sweep against city rivals the Cubs with a 7-0 win.
The win keeps the White Sox only half a game behind the Cleveland Indians, who thumped the Cincinnati Reds 8-1 as Justin Masterson pitched a complete game for just one unearned run.
Elsewhere, the Philadelphia Phillies beat the Colorado Rockies 7-6, the St Louis Cardinals beat the Detroit Tigers 3-1, the Pittsburgh Pirates went down 2-1 to the Minnesota Twins and the Kansas City Royals enjoyed a 2-1 win over the Houston Astros.