NHL: Kings crowned champions
LA see off New Jersey in game six
Last Updated: June 12, 2012 8:10am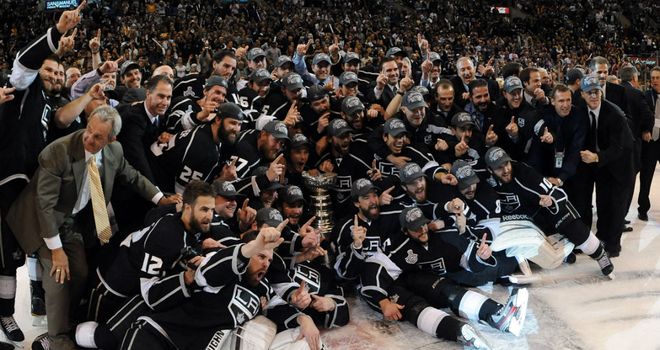 Los Angeles Kings celebrate becoming Stanley Cup champions
The Los Angeles Kings have secured the Stanley Cup for the first time after they thumped the New Jersey Devils 6-1 to seal the series 4-2.
The Devils had threatened an upset in the best-of-seven final as they bounced back from the brink of defeat by winning two successive games.
However the Kings made no mistake in game six, with Jeff Carter and Trevor Lewis each scoring two goals.
Team captain Dustin Brown scored the opening goal 11 minutes into the first period and Matt Greene rounded out the scoring in the final stanza.
Goaltender Jonathan Quick made 17 saves in another fine showing.
Adam Henrique scored New Jersey's only goal in the second period, by which point the Kings had already opened up a 4-0 lead.
"This is something everyone's dreamed of for their whole lives and this city's dreamed of for 45 years," said captain Dustin Brown.
"I can't really explain it. We had an opportunity to do something special on home ice and we did, and we're champions."