MLB: Cubs end losing run
A review of Monday's action in the Major League Baseball
Last Updated: May 29, 2012 8:45am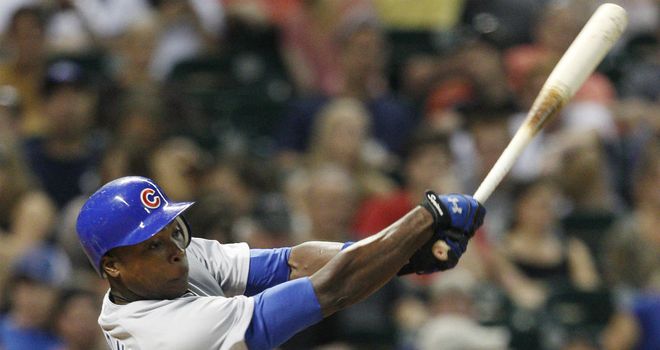 Alfonso Soriano: Led the way for the Chicago Cubs
Alfonso Soriano led the ways as the Chicago Cubs finally ended their 12-game losing streak with an 11-7 win over the San Diego Padres.
Soriano had three hits, three RBI and a pair of runs to go with his long ball, while Darwin Barney, Starlin Castro and Ian Stewart also went yard.
The Padres had four homers of their own, two of which came from the bat of Chase Headley.
It was a good day for the other Chicago team too as Chris Sale struck out a career-high 15 batters to help the White Sox extend their winning run to six with a 2-1 success over the Tampa Bay Rays.
Florida native Sale, who grew up supporting the Rays, set a new record for Ks at Tropicana Field, while Adam Dunn supplied all the offence with a two-run shot in the sixth.
Mark Trumbo hit a walk-off home run to give the Los Angeles Angels a 9-8 victory over the New York Yankees.
It was a tough game for the Angels, who lost ace Jered Weaver to a back injury in the first inning, but they got the job done thanks to Trumbo, who had three runs and two RBI on three hits, and Mike Trout, who hit his fifth homer of the season.
Hurled
Cole Hamels became the first pitcher to eight wins this season as he allowed four runs across eight innings in the Philadelphia Phillies' 8-4 victory over the New York Mets.
And he was joined by Lance Lynn, who led the St Louis Cardinals to an 8-2 win over the Atlanta Braves.
James McDonald hurled eight scoreless innings as the Pittsburgh Pirates moved to .500 on the season by beating the Cincinnati Reds 4-1.
The Boston Reds Sox also reached .500 as Jarrod Saltalamacchia continued his hot streak with a homer in a 7-4 win over the Detroit Tigers.
Lonnie Chisenhall homered with his first swing of the bat since being recalled from AAA, leading the Cleveland Indians to an 8-5 win over the Kansas City Royals.
The Colorado Rockies claimed two close victories in their double-header against the Houston Astros, sealing 9-7 and 7-6 wins, the second of which came via a Dexter Fowler walk-off triple in the 10th.
Drew Hutchison produced seven scoreless innings while Edwin Encarnacion and Kelly Johnson had a two-run shot apiece in the Toronto Blue Jays' 6-2 win over the Baltimore Orioles.
Mike Napoli hit a three-run homer to lift the Texas Rangers to a 4-2 victory over the Seattle Mariners, while the Milwaukee Brewers overcame the Los Angeles Dodgers 3-2.
The Miami Marlins beat the Washington Nationals 5-3, the Minnesota Twins were 5-4 winners over the Oakland Athletics and the San Francisco Giants claimed a 4-2 victory over the Arizona Diamondbacks.