Skiing: Vonn confirmed champ
Cancellation hands super-combi title to American
Last Updated: 19/02/12 12:19pm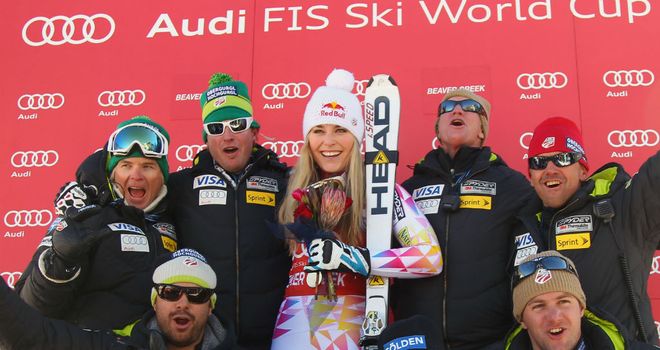 Lindsey Vonn: Super-combined champion again
Lindsey Vonn was confirmed World Cup super-combined champion after the final race of the season was cancelled due to heavy snowfall.
The third and final race of the season on the Olympic course in Sochi was called off leaving the American at the top of the standings for a third successive year.
The International Ski Federation had initially said the race might be rescheduled for Are, Sweden, next month, but then scrapped the idea.
"You never want to have a (title) clinched with a canceled race," Vonn said. "I had it happen to me last year at the finals for the overall globe, and I've won a super-combined title before in this way when they canceled the last super-combined in Crans Montana.
"I would love to have another chance to be on the podium, but today was just not meant to be."
Vonn, who on Saturday clinched a fifth successive downhill title on the same course, took the title with 180 points, 55 ahead of Slovenia's Tina Maze and 60 in front of Austria's Nicole Hosp.
Maria Hoefl-Riesch called for the super-combined to be scrapped outside the major championships.
"It's a joke with just two races," said Hoefl-Riesch, who finished fourth in the standings. "They should only have super-combi at world championships and Olympics. In World Cup, it's too much for the four-event skiers."
Vonn and the other top-ranked women now travel to Moscow for a special parallel event Tuesday.