Race is on to reach final - and remain in the running for the £150,000 first prize
Last Updated: 20/06/13 4:30pm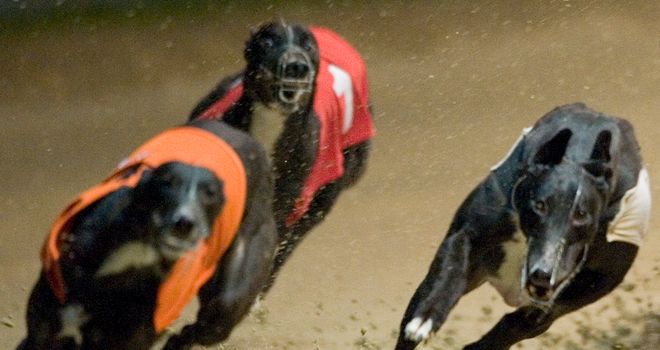 We're down to the final 12 in the William Hill Greyhound Derby and the stage is set for Saturday's semi-finals of the World's Greatest Greyhound Race with the fastest dogs in Britain and Ireland going for gold.
In Tuesday's quarter-finals, Droopys Jet, trained by Fraser Black, was quickest with a flying 28.22sec run.
Catch Saturday's action live on Sky Sports 3 from 7pm, which will be followed by the trap draw for the final, and the race for a record £150,000 first prize on Saturday, June 29.
Wimbledon (8.45pm)
Droopys Jet versus Ballymac Eske looks a cracking head-to-head on paper with the two fastest greyhounds in this year's Derby crossing swords for the first time. Irish star Droopys Jet was the star of the quarter-finals and will be fancied by many to streak clear, with slow-starting and wide moving Hather George outside him. But Eske is the only unbeaten record in the competition and is doing everything in his stride without setting the world alight it seems. This is the culmination of a three-runs-in-eight-days schedule and stamina aplenty is required. Bittles Bar is the most likely leader and could edge Droopys Jet into the turn. Holdem Spy and Hather George will be tearing down the back. Selections: 2-1-4
Wimbledon 9.05pm
Sidaz Jack is the youngest runner left in the Greyhound Derby and now faces his stiffest test against Irish star Ballymac Vic. He needs to trap well with Vic putting on pressure right from the start but both clocked identical times (28.32) in their quarter-finals and, remember, 'Derby King' Charlie Lister trains Jack. The race will be on for the minor places here and, more importantly, a place in the Derby final. Tyrur Sugar Ray's rails draw will give him a big chance of turning handy and he keeps on well. So too, however, does Teejays Bluehawk, Airlie Impact and Bouncy Bocko. Airlie Impact is due a better draw and could come away quicker but it will be tight late on, for sure. Selections: 3-4-1
See bagsracing.com for the form for Saturday's live-on-Sky races