Set sail with Sky
Sky Sports to broadcast two World Series events live
Last Updated: 10/04/12 3:40pm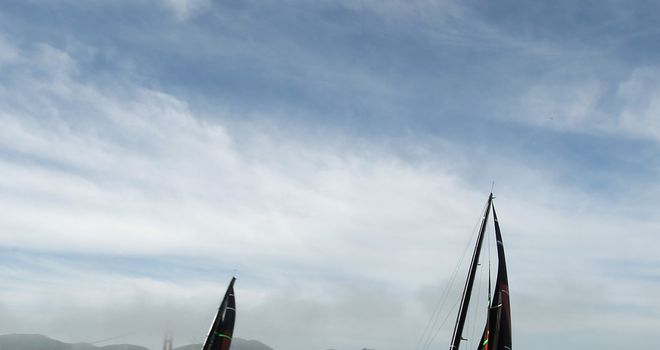 AC45s: will be featured at the America's Cup World Series
Sky Sports will screen the next two America's Cup World Series events live in the UK this year.
The regattas are part of the build up to the America's Cup in 2013 and are in Naples, beginning Wednesday April 11 and Venice, from Wednesday May 16.
Both events will be available in the UK live on Sky Sports and via live streaming on skysports.com. The events will be covered using the latest TV technology with virtual graphics, on-board camera and computer tracking to enhance the viewing experience.
Daily highlights of the two series will also be available in addition to a weekly magazine programme 'America's Cup Uncovered' that will be screened every week in the lead up to the 2013 America's Cup.
Rik Dovey, Deputy Managing Director of Sky Sports said: "We are delighted to be able to show the America's Cup on Sky Sports and give UK viewers a chance to see the live action of the events leading up to the 2013 America's Cup.
"This is another example of the value we are creating for customers through our content. Our different ways of keeping up-to-date and support programming can take new followers and devoted fans to the core of this sport."
UK viewers can also keep up-to-date via Sky Go, which allows Sky TV customers with Sky Sports access across a range of devices. Sky customers will be able to watch live streaming of every Sky Sports channel on laptops, computers, tablet and mobile devices. There is also coverage on skysports.com, plus the breaking news and views round the clock on Sky Sports News.
The America's Cup World Series events are part of the Sky Sports sailing line up, which includes highlights from the Volvo Ocean Race available on Sky Sports HD channels.
The Volvo Ocean Race, which began in October 2011, is one of the world's premier global races and one of the most demanding team sporting events in the world and the current race will culminate in July this year.
Naples
Wednesday 11 April - 13.00 Sky Sports 2 HD
Thursday 12 April - 13.00 Sky Sports 2 HD
Friday 13 April - 13.00 Sky Sports 2 HD
Saturday 14 April - 13.00 Sky Sports 3 HD
Sunday 15 April - 13.30 Sky Sports 4 HD
Venice
Wednesday 16 May - 13.00 Sky Sports 4 HD
Thursday 17 May - 13.00 Sky Sports 4 HD
Friday 18 May - 13.00 Sky Sports 4 HD
Saturday 19 May - 13.00 Red Button (Channel TBC)
Sunday 20 May - 13.00 Sky Sports 4 HD