Fats entertainment
Last Updated: 24/09/08 10:51am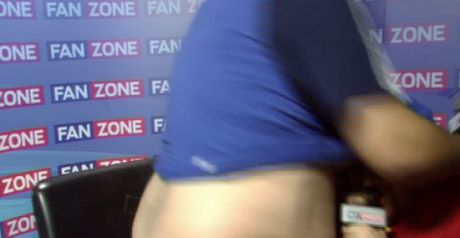 There's a Man Utd fan in there somewhere!
There was a feast of FanZone on Sunday with the Baggies/Villa Midlands derby and Man U returning to the Bridge for the first time since 'Mower-Gate.'
First up, Martin MacDonald confidently predicted West Brom would get something out of their game at the Hawthorns, until he saw Leon Barnett had replaced Abdoulaye Meite on the teamsheet.
Poor Leon failed to pick up Carew and Agbonlahor for both the Villa goals, and while Villa fan Matt Yates celebrated joyously, Martin didn't mince his words.
More mishaps followed at the back and even Brad Friedel's howler at the other end didn't distract Martin from slamming the stand-in centre-back. No guesses who his vote for player of the season won't be going to!
Battle of the bulge
Onto the second game of the day in West London, which Chelsea fan Nicky Padayache eloquently labelled the 'Heavyweight Clash of the Premiership'. Well one thing's for sure the Fanzone seats were just a little out of shape at the end of the contest!
Nicky was joined by United fan David Smallwood who was making his FanZone debut. Despite living in London, David thankfully wasn't one of the legions of 'Cockney Reds' and had a refreshingly honest view of the Red Devils.
In his personal profile he revealed he would sign himself for United and his ideal wag was Natalie Cassidy (aka Sonia from Eastenders) - bizarre.
Anyway back to the game and Nicky's machine-gun commentary soon jammed when Ji-Sung Park toe-poked home the opening goal. He then assaulted the booth with a vicious punch when Joe Cole's shot only found the side-netting. But thankfully for the chirpy Chelsea fan (and the Sky DIY department), Soloman Kalou leapt highest to head home John Obi Mikel's free-kick and kept the Blue's fine home record intact.
Mind you, you had to feel for poor David who had his head stuffed up Nick's Chelsea shirt in celebration... He looked almost as bemused as Frank Lampard when he witnessed a comical Ronaldo dive moments later. Let's just say the standard of acting could have graced Hollyoaks: In The City!
And there was still time for the most surreal ending to a FanZone commentary ever. With seconds remaining, Drogba stormed towards goal only to appear to be taken out on the edge of the box by Rio Ferdinand.
Nicky celebrated like the free-kick had already been scored and Rio marched towards the dressing room, while a furious Fergie headed onto the pitch. Had he been sent off? Was Sir Alex about to attack Mike Riley? No, relax guys, the final whistle had gone.