Titleist 714 Irons
By David Keywood. Last Updated: 03/03/15 3:10pm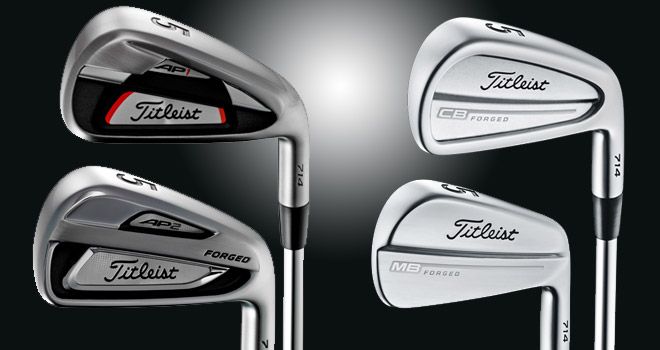 Titleist launch their new 714 range with the release of AP1, AP2, CB and MB irons
Titleist launch their new 714 range with the release of AP1, AP2, CB and MB irons
As you may have read in the Titleist seeding article, the new 714 irons are currently being used by tour professionals around the World and have been getting excellent reviews. Jason Dufner used 714 AP2 irons to win the US PGA Championship and Gregory Bourdy won the ISPS Handa Wales Open with a combination of 714 CB & MB irons.
For Titleist to improve the AP range of irons, they have removed weight from areas of the club head and replaced a high density tungsten weight into the heel of the mid and long irons. This has helped to improve ball flight, increase forgiveness and give maximum feel to each and every player
The longer irons create a higher launch angle for more carry and a flatter launch angle for shorter irons which give you outstanding control around the greens.
The new AP1 irons are the longest, most forgiving iron Titleist has ever made, with a multi-material, dual cavity design for players that want maximum distance, forgiveness and solid feel in a great looking progressive game improvement chassis. The new AP2 models are multi-material, forged irons that offer distance with trajectory control and forgiveness with workability in a solid feeling, great looking tour proven chassis.
Both AP1 and AP2 feature a satin polish playing position with bright polish cavity highlights for superior appearance at address.
The new Titleist CB and MB irons are designed for maximum shot control with improved address profiles and enhanced feel through the turf.
The CB and MB irons are forged from 1025 carbon steel and feature tour-preferred constant blade lengths with minimal progressive offset for maximum workability.
The new CB irons feature an optimised shallow cavity-back design with an inner cavity muscle behind the impact area for solid blade iron feel. MB is a classic muscle back forged iron, delivering great feel from muscle back weighting positioned behind the sweet spot.
I got a chance to speak to European Tour Professional Paul Waring at Royal Lytham & St. Annes in August. Paul, who uses the CB range, was very impressed with the subtle changes to the irons. He talked in depth about the new sole design which has added camber. This stops the clubs digging into the ground as much, therefore divot depth is improved for a better strike. His switch to the new irons saw him make his first cut in his past four attempts, while maybe conincidental, I'll be fascinated to follow his form as he continues to get to grips with the new technology.
The new 714 range are available in golf shops worldwide from November 8th, I cannot recommend these irons enough, I have hit shots with the AP2, CB and MB and the feel I get from each iron is better than any feeling I have had from any other iron I've hit. The trajectory of the ball is very consistent throughout the bag too.
But don't take my word for it, watch the video below and hear the tour professionals talk about what they think about the 714 irons or go to your nearest golf shop to try them out for yourself let me know how you get on.
For more information on Titleist products please visit www.titleist.co.uk