ANZ Netball Championships: Round 5 results
Last Updated: 01/04/14 3:44pm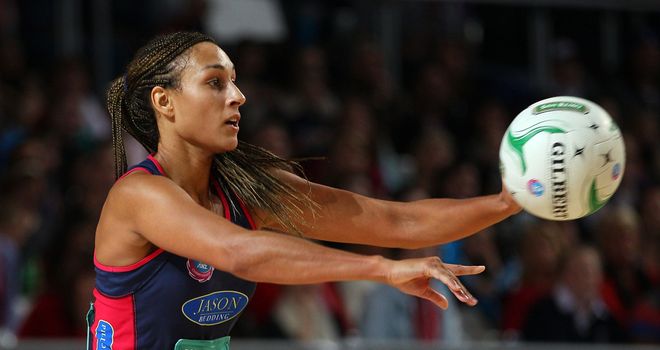 Geva Mentor: Vixens most valuable player last weekend.
The trans-Tasman ANZ Netball Championships 2014 season reached round five last weekend...
And it was another absolute thriller.
England internationals Jo Harten and Eboni Beckford-Chambers came up against each other in the circle last weekend, but it was MVP Harten's Magic side who came out on top with victory over West Coast Fever to keep them unbeaten and top of the table.
There was more great news for England fans as international GK Geva Mentor was voted Most Valuable Player in Melbourne Vixens victory over Tactix.
Southern Steel made history with against reigning champs the Thunderbirds and picked up their second win of the season.
And the Firebirds and the Swifts continued their consistent form to stay in the top four.
ANZ Championship Round 5 results

Queensland Firebirds 58-50 Northern Mystics
Adelaide Thunderbirds 59-61 Southern Steel
Mainland Tactix 43-67 Melbourne Vixens
NSW Swifts 63-45 Central Pulse
Waikato Magic 65-48 West Coast Fever
| | | | | | |
| --- | --- | --- | --- | --- | --- |
|   | Played | Won | Lost | % | Points |
| Waikato BOP Magic | 5 | 5 | 0 | 127.7% | 10 |
| Melbourne Vixens | 5 | 3 | 2 | 122.2% | 6 |
| Queensland Firebirds | 5 | 3 | 2 | 105.2% | 6 |
| Adelaide Thunderbirds | 5 | 3 | 2 | 101.5% | 6 |
| Central Pulse | 5 | 2 | 3 | 98.5% | 4 |
| Southern Steel | 5 | 2 | 3 | 91.0% | 4 |
| West Coast Fever | 5 | 1 | 4 | 102.0% | 2 |
| Northern Mystics | 5 | 1 | 4 | 82.9% | 2 |
| Mainland Tactix | 5 | 1 | 4 | 72.4% | 2 |