Carlos Molina has work ethic and style to trouble Amir Khan, says Oscar De La Hoya
Last Updated: 14/12/12 12:47pm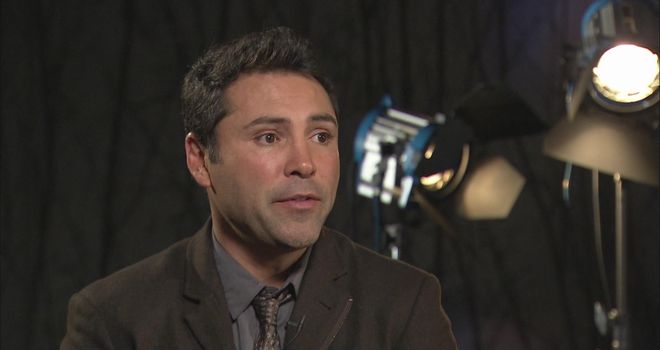 De La Hoya: Molina has talent
Oscar De La Hoya told Ringside that Carlos Molina has the ability to shock Amir Khan in Los Angeles this weekend.
The 27-year-old, who will be stepping up to light welterweight from lightweight, has won 17 and drawn one of his 18 professional fights.
LIVE ON SKY SPORTS
Amir Khan v Carlos Molina
1am, Sun, Sky Sports 1 HD
And former six-weight world champion De La Hoya thinks Molina could thrive with home advantage.
"In LA boxing circles people see Molina as the next world champion," said the boxing legend. "He is steadily going up the ranks and his competition has been stiffer and stiffer.
"This is hisMolina's opportunity and he thinks Khan will go back to his old ways and he can pounce."
Oscar de La Hoya
"Carlos will have extra motivation because he is fighting in his own backyard and I feel he can really step it up and put on a tremendous show, because he has the style and work ethic to really surprise Khan.
"He has beaten nearly everyone he has been up against and is fighting a guy who just got knocked out, so he should be thinking: 'Amir's confidence is low and this is my time to shine'.
"He has come from a rough background, a bit like me, but he is humble and has a very tight family and works hard.
"This is his big opportunity and he thinks Khan will go back to his old ways and he can pounce."
Different
However, De La Hoya reckons Khan, who has lost his previous two bouts to Danny Garcia and Lamont Peterson, will fight "smarter and harder" this weekend, and praised the Bolton boxer's decision to join forces with Andre Ward's trainer Virgil Hunter.
"I feel there is something different about Amir, "said De La Hoya. "He has stated that he is the opponent and that will do wonders for him.
"After all the success he has tasted he has to think he is the underdog which will make him fight smarter and harder.
"Khan was in control of his fight with Garcia and was boxing beautifully; I believe he was winning every single round.
"But he got caught because he lets his heart and his fighting spirit get in the way, so it will be interesting to see what Khan has learnt from Hunter in a short space of time.
"I think it is a great move (to work with Hunter), who runs a one-man team, which shows he is confident in his ability. Hunter has got results with Ward and Alfredo Angulo and I think we will see great things from Khan."