BBL Trophy: Jamal Williams leads Worcester Wolves to first title
Last Updated: 30/03/14 6:47pm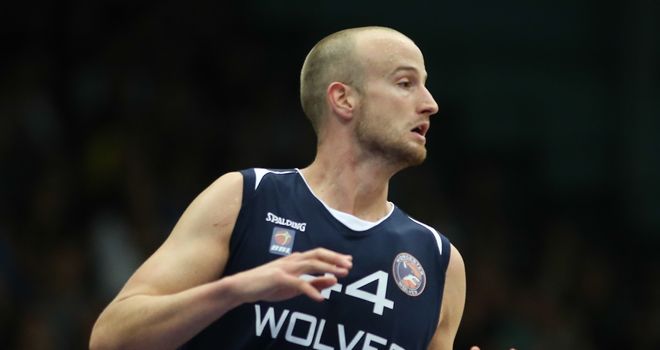 Will Creekmore: 22 points in final
Jamal Williams scored 26 points and sparked the key run as Worcester Wolves won their first BBL honours by beating Glasgow Rocks 83-76 to lift the BBL Trophy at the Emirates Arena.
Glasgow had led 44-38 at half-time but Worcester outscored them 20-11 in the third period to flip the game on its head. An 11-2 fourth-quarter run, capped by Williams' three-pointer, put the game away.
Will Creekmore also came up big with 22 points and 15 rebounds for Worcester while Great Britain international Gareth Murray led Glasgow with 21 points.
In front of nearly 5000 fans in Glasgow, the Rocks built a 25-15 lead by the end for the first quarter as Gareth Murray landed a buzzer-beating triple.
The Scot netted another on the buzzer at the end of the second quarter - taking his first-half tally to 13 points - as Glasgow responded to a rally from Worcester to retain a strong advantage.
Worcester, though, were still in touch and stormed into the lead as Creekmore hit two points followed by a pair of free-throws from Jamal Williams and a Kai Williams score.
The teams went toe to toe in the final quarter, with a flurry of three-pointers on either side, until Jamal Williams contributed seven points for the Wolves in a run that saw them score 11 points to the Rocks two, opening up a 75-68 lead.
That period proved crucial and Worcester wrapped up the final with a six-point winning margin.