Sport in 2014: Paul Merson, Phil Thompson and more reveal their hopes
Last Updated: 02/01/14 8:33am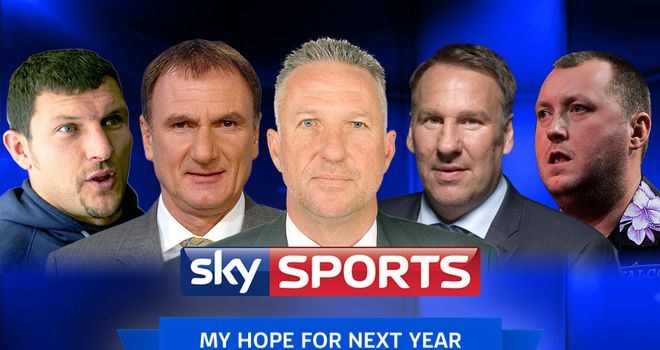 The last year had plenty of highlights and memories but what is around the corner in 2014?
The Sky Sports pundits know most things about their sport, but even they can't get a crystal ball out and tell us what is going to happen over the next 12 months.
But all the famous faces know what they want to see transpire, so scroll down and see just what our experts are hoping for...
Paul Merson - Football
It has to be the World Cup. I love the World Cup because you get the best of the best. When you walk out you are in the best 11 players in your country at that time and you are up against the best 11 players from another country. There are no weak links. This is the best of the best and the people who produce in World Cups are the people who can be classed as world-class footballers.
Barrie McDermott - Rugby League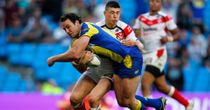 It is more a case of who to look out for in 2014 for me! I want to see more British youngsters given the chance to play at the top level. If you are good enough then you are old enough and we certainly have some exciting talent coming through. I am really looking forward to seeing many more young British players given the chance and here are my top teenagers for 2014: Connor Farrell (Wigan), Tom Walker (Warrington), Tyler Dickenson (Huddersfield), Sonny Esslemont (Hull KR), Connor Dwyer (Saints), Harry Tyson-Wilson (Hull FC), Adrian Morley* (Salford), Elliot Minchella (Leeds), Will Mayer (Castleford), Max Jowett (Wakefield), Kieran Butterworth (Widnes), Gadwin Springer (Catalan), Oliver Roberts (Bradford).
*Morley is a teenager at heart!
Wayne Mardle - Darts
I'm looking forward to what I call "The Big Three", which is Adrian Lewis, Phil Taylor and Michael van Gerwen, doing battle week in and week out over the next 12 months. I now feel Taylor knows that the other two can turn him over whenever they meet. I don't think he has felt that way before in his career and I think it will be extremely exciting and unpredictable at all of the major tournaments.
Phil Thompson - Football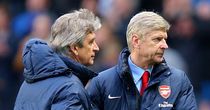 I just hope the Premier League continues the way it is. Certainly towards the back end of April and early May, if the league still is as it is it will be a sensational finish. It will be even more exciting than when Manchester City won the title from Manchester United a couple of seasons ago, it will go right to the very end. Not only will the race for the title be great but the race for the top four will be astonishing. Liverpool are up there, Everton are up there, Chelsea and Manchester City have had their struggles away from home. Man City are almost unbeatable at home as we speak while Chelsea's home form is okay. And, of course, Manchester United are in a transitional season and Arsenal have shown their vulnerability of late. It is making for a fascinating finish. It will make the Premier League so exciting and it could be an astonishing season.
Kelvin Tatum - Speedway
I am really looking forward to seeing how the league works out regarding the new structure. A new regulation will come in that means each team has to have two British youngsters at the bottom. It's long overdue but I am delighted that we are going to focus on developing young British riders. We desperately need to encourage these youngsters to improve and I'm looking forward to seeing them develop.