Tom Watson career in profile after Ryder Cup captaincy announcement
By Paul Higham Twitter: @SkySportsPaulH. Last Updated: 13/12/12 3:56pm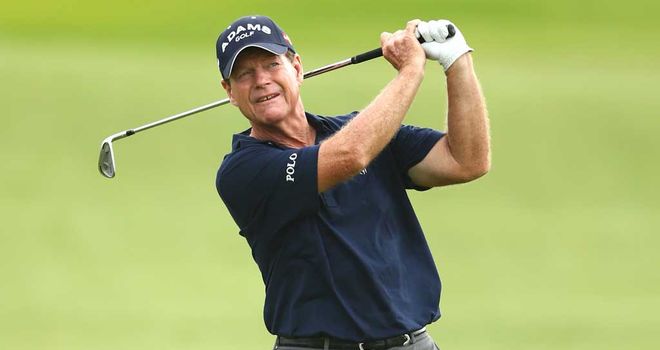 Tom Watson: New American Ryder Cup captain
We take a look at the fantastic career of golfing legend Tom Watson after his appointment as the American captain for the 2014 Ryder Cup.
1949: Born September 4, Kansas City, Missouri.
1971: Turns professional after earning degree in psychology at Stanford University.
1974: First PGA Tour win at Western Open.
1975: Makes Open debut at Carnoustie and beats Jack Newton in a play-off.
1977: Wins Masters by two strokes from Jack Nicklaus and then beats him again by one in memorable "Duel in the Sun" at Turnberry. Earns first Ryder Cup cap.
Ryder Cup record:
Caps 4
Played 15
Won 10
Halved 1
Lost 4 1977 - Watson&Nicklaus bt Horton&James 5&4 (foursomes), Watson&Green bt Barnes&Horton 5&4 (fourballs), lost to Faldo 1 hole 1981 - Watson&Nicklaus bt Oosterhuis&Faldo 4&3 (foursomes), Watson&Nicklaus bt Canizares&Smyth 3&2 (fourballs), Watson&Nicklaus bt Langer&Pinero 3&2 (foursomes), lost to Clark 4&3 1983 - Watson&Crenshaw bt Gallacher&Lyle 5&4 (foursomes), Watson&Haas bt Faldo&Langer 2&1 (fourballs), Watson&Gilder bt Torrance&Woosnam 5&4 (fourballs), Watson&Gilder lost to Ballesteros&Way 2&1 (foursomes), bt Gallacher 2&1 1989 Watson&Beck halved with Ballesteros&Olazabal (foursomes), Watson&O'Meara lost to Ballesteros&Olazabal 6&5 (fourballs), bt Torrance 3&1
1979: Selected for Ryder Cup, but withdraws to attend birth of first child.
1980: Third Open title by four-stroke margin at Muirfield.
1981: Pushes Nicklaus into second place again at Masters, second Ryder Cup cap.
1982: Defeats Nicklaus once more at Pebble Beach for what would be his only US Open victory. A month later adds fourth Open crown at Royal Troon.
1983: Makes successful defence of Claret Jug at Royal Birkdale, his only Open win outside Scotland and eighth major. Third Ryder Cup cap.
1984: Has chance to equal Harry Vardon's record six wins, but loses to Seve Ballesteros at St Andrews.
1987: First PGA Tour win for three years.
1988: Inducted into World Golf Hall of Fame.
1989: Fourth Ryder Cup cap.
1991: Joint leader in Masters with a hole to play, but double-bogeys and Ian Woosnam takes title.
1993: Captains United States to victory over Europe at The Belfry.
1996: First PGA Tour win since 1987.
1998: Captures 39th PGA Tour title at age of 48.
2003: Leads US Open after opening 65.
2009: Just short of 60th birthday has eight-foot putt to win another Open at Turnberry, but misses and loses play-off to Stewart Cink. Would have been oldest major champion by 11 years.
2012: Named Ryder Cup captain again.