Sky Sports Living for Sport Athlete Mentors inspire success
By Oli Burley - @SkySportsOli. Last Updated: 15/03/13 8:03am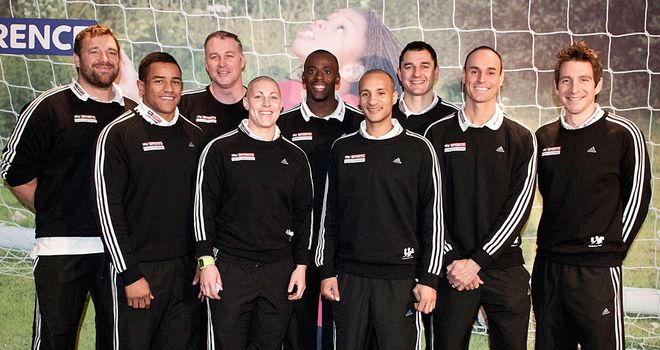 Thinus Delport (third from right) is one of a growing group of Sky Sports Living for Sport Athlete Mentors
Athlete Mentors Thinus Delport and Jenna Downing are looking forward to Friday's Sky Sports Living for Sport awards ceremony with added expectation.
Each has worked with two of the 12 regional finalists in contention to be named Sky Sports Living for Sport Student of the Year 2012.
"Schools that have been involved with the project have recommended it to others and as a result it has grown at a grassroots level."
Thinus Delport
Former South African rugby union international Delport has spent time with Dylan McLachlan and Alan Townley, winners of the Wales and South West region awards respectively.
Meanwhile, professional extreme inline skater Downing has engaged with Sky Sports Living for Sports projects involving Ben Clark, in the North West, and Justice Dje, in the Yorkshire and the Humber region.
To read more about each of the 12 regional finalists, click here.
You can watch the ceremony live on your laptop or PC at www.skysports.com/SSLFSawards from 11.30am.
Challenged
Each of the students nominated for this year's award has taken part in a Sky Sports Living for Sport project that has helped them to overcome challenges in their lives.
Each school that takes part in the initiative qualifies for two visits from an Athlete Mentor, who encourages the pupils to develop skills and attain greater achievements at school and in their personal life through sport.
"I'm very impressed that these young people have been able to turn their circumstances around and impress their mentors and teachers," said Delport.
"It's great to see their hard work paying off and their respective regional awards are thoroughly deserved. I'm very proud to have played a very small part in inspiring these guys to move forward and achieve their dreams."
As part of her school visits, Downing encouraged students to take part in a live skating session.
"The projects really challenged them because they'd never done anything like that in school before - it was something new, something different for them to try and it tested their mental toughness," she explained.
"It was brilliant to the effect that putting on a pair of skates had on students like Justice; it really boosted her confidence and self-esteem as she realised 'wow, I can actually do this'.
"Many young people have their confidence knocked by difficulties they come across in their life, so it's great to show them that they can succeed in something. It helps to bring them out of their shell. It's awesome!"
Progress
In February Sky Sports Living for Sport recruited an extra 26 sporting stars to swell the number of Athlete Mentors involved in the programme to over 70.
Each was chosen by the Youth Sport Trust because they have overcome a range of challenges to achieve sporting success - stories that they can tell to inspire students and help improve the lives of others.
Over a third of UK secondary schools have enrolled on Sky Sports Living for Sport - including 700 schools in 2012 - and Delport says that growth is testament to the impact that the scheme is having.
"There are so many more schools on board now and while you can credit a lot of the growth to the involvement of Sky Sports, a lot of it has come by word of mouth," he reflected.
"Schools that have been involved with the project have recommended it to others and as a result it has grown at a grassroots level.
"There are a lot more batches of schools participating in the same area than there were in the past, which is great to see because it means we're all making progress."
To find out more about Sky Sports Living for Sport visit the official website by clicking here.