Fergie - Ref had no option
United manager pleased to get another win in title race
Last Updated: 09/04/12 3:46pm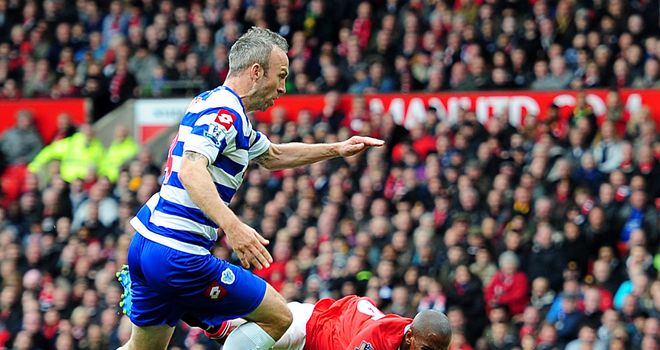 Shaun Derry: QPR captain was sent off after a foul on Manchester United winger Ashley Young
Sir Alex Ferguson felt referee Lee Mason had no option but to send Shaun Derry off during Manchester United's win over Queens Park Rangers, but acknowledged Ashley Young was in an offside position.
United recorded an eighth successive Premier League victory to tighten their grip at the top of the table after goals from Wayne Rooney and Paul Scholes secured a 2-0 triumph over QPR.
However, the key moment in the game arrived on 14 minutes when Derry was sent off for a foul on Young in the box after the United winger was in an offside position from Rooney's pass.
Sky Bet Odds
Click here for the latest Barclays Premier League markets including Winner, Top 4 Finish and Relegation Trebles such as Wigan, Wolves and QPR at 2/1!
The assistant referee's failure to spot Young being offside followed on from two decisions which went against QPR's relegation rivals Wigan Athletic at Chelsea on Saturday.
Ferguson told Sky Sports: "I thought Ashley was offside, but there's been a lot of that in the last few weeks, a lot of decisions like this.
"The boy Derry just had a little tug and it was enough to unbalance Ashley and, obviously, being the last defender the referee was left with no option."
Scholes praise
The win opened up an eight-point advantage over Manchester City ahead of their game at Arsenal later on Sunday and Ferguson was pleased to cross off another game.
He added: "The only think I can take out of today was we won our game, there are only six games left now and we are a goal better off than City.
"That's the only way I can look at it to be honest with you."
The Red Devils have now won 11 out of 12 league games since Scholes came out of retirement in January and Ferguson praised the 37-year-old midfielder's contribution.
"We've only dropped two points since he's come back into the fold and today was a typical Paul Scholes goal," continued the United manager.
"He has scored three now since he's come back and you can see the control of the game, and the control of the tempo of the game, has never changed. He's a great, great player."