GAA: Dublin manager Jim Gavin expecting intriguing contest against Donegal
Last Updated: 29/08/14 3:02pm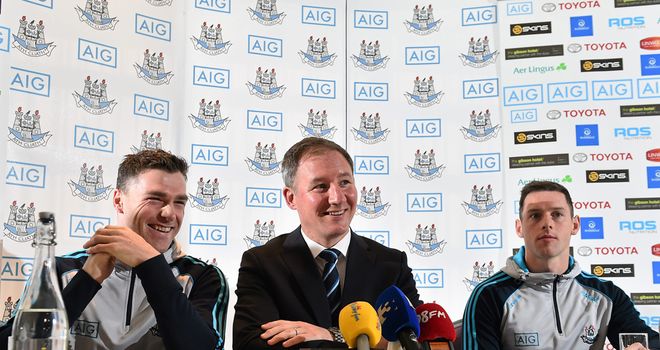 Paddy Andrews, Jim Gavin and Philly McMahon are pictured at Dublin's press conference on Wednesday
Jim Gavin says Dublin are ready for whatever Donegal throw at them in Sunday's All-Ireland semi-final.
A clash of styles is predicted at Croke Park, with Donegal expected to employ an ultra-defensive system in the counties' first championship meeting since the 2011 All-Ireland semi-final.
"Donegal have been working with Jim (McGuinness) for the last four years on their system and defensively, we know they are very slick and very difficult to break down," said Gavin.
"They are familiar now with the patterns of play and positions they should be in his defensive system and are very competent at playing it. It's very difficult for any team to break down and they've demonstrated that again this year.
"Going forward they are very impressive. They play traditional Donegal running style and are very comfortable with that.
"There is no right or wrong way, in my opinion, to set a team up. It's the manager's decision to decide what strategy and tactics he employs on any given day."
Jim Gavin
"But they can also use the long ball if required and have some big threats up front and can punish teams if they are not marked tightly. So all around it will be an intriguing game."
While the general consensus has the game down as a battle for the very soul of the game, Gavin is altogether more broad-minded about it.
He was in the stands for the notorious 2011 semi-final and found it fascinating. The idea that this is a clash of good and evil is far too reductive a way of looking at it.
"Not at all. Each county has their own culture," said Gavin. "That's the great thing about Gaelic football, and Gaelic games in general.
"There is no right or wrong way, in my opinion, to set a team up. It's the manager's decision to decide what strategy and tactics he employs on any given day.
"And he's doing his very best for his community and his county. In Dublin, we've just inherited from people who have gone before us a particular style of football that's played at club level.
"And people expect us to play that at county level. Sometimes we get successful, sometimes we don't. There are no guarantees, but that's just the way we play."
Competent
Styles make fights. Donegal don't play with the freedom Dublin do but neither would they have won their All-Ireland playing the way they did in 2011.
Those predicting a return to it on Sunday ignore the fact that not only would it not be enough to win this time around, it wasn't back then either.
"I think they've got a very competent defensive system and obviously teams progress and evolve over the seasons," said Gavin.
"But that (game) is certainly a good reference point. They have evolved their game from that and I would suggest they are more comfortable with it now.
"Players know where they need to set themselves up in that particular defensive pattern and the positional and game sense awareness will have developed. So it's a big, big challenge.
ALL-IRELAND SFC
SEMI-FINAL
Dublin v Donegal
Sunday, 3.30pm
Live on Sky Sports 3
"I can't dictate and control how another team sets themselves up. I acknowledge that Donegal have a very strong defensive system, and are very difficult to break down.
"In attack, they're very competent. They manage the ball very well, great patterns of movement and get players into the scoring positions.
"And they have a very high shot-scoring ratio from taking the right options at the right time. They can mix it up with some long balls into the square.
"They have some big players there. How they set themselves up, we can't dictate that. Most of our work over the past two weeks has been on how we're going to play our game."
On the outstanding issue of the week, Gavin was unequivocal. The Kerry v Mayo replay should have been fixed for Croke Park and if that meant pushing it back a week, so be it.
"Yeah, at this stage of the season, it's a player's game," he said, "and if a player has earned the right to be in an All-Ireland semi-final I think they deserve the right to play in Croke Park.
"Absolutely, I'd be very frustrated (if it was Dublin). I think the most obvious solution was to roll the game back a week."
Watch Dublin v Donegal live on Sky Sports 2 on Sunday from 3pm