GAA: Mayo manager James Horan proud of his team's performance against Kerry
Last Updated: 26/08/14 10:06am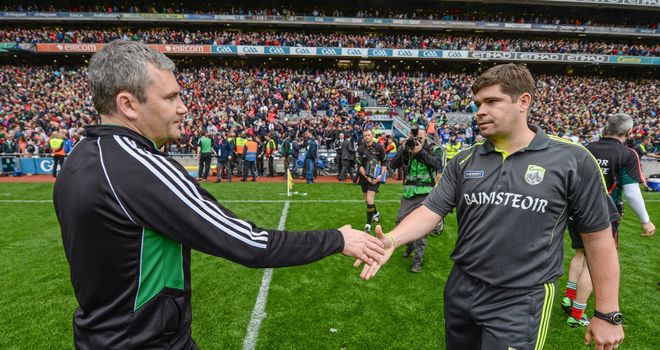 James Horan shakes hands with Kerry manager Eamonn Fitzmaurice after the final whistle
James Horan hailed the character of his Mayo players after they came within minutes of an All-Ireland semi-final win over Kerry.
The Connacht champions played the final 37 minutes with 14 men following Lee Keegan's dismissal, but they produced a stunning second-half performance to lead by four points late on.
Kerry managed to salvage a draw through James O'Donoghue's late goal and a point from substitute Kieran O'Leary, with the sides set to meet again in Limerick on Saturday.
"From what we displayed in the second half here, I can have nothing but huge pride for our group of players today," said Horan.
"And I'm delighted with that. Five points down against Kerry at the start of the second half, and a man down, then to dominate the second half like we did is brilliant.
"And we showed we can rough and tumble it, and in the second half, really drove on, and played the game that we're always trying to look to play, an attacking-based game with high tempo and a huge skill set. When we do that we're a dangerous team.
"The first half we were a little bit tentative. When you're not playing the game that you can play, you can be thinking about it too much, and get caught out. That seemed to happen to us a little in the first half."
Exhilarating
Yet when Mayo charged on Kerry in the second half, each player giving vein-popping commitment, even Horan had to admit it was exhilarating.
"It's certainly up there with the best we've played," he said. "Probably as good as any team has played. Fellas just stood up. And it was exhilarating to watch, to be honest. We had guys who weren't just going to lose.
"Five points down against Kerry at the start of the second half, and a man down, then to dominate the second half like we did is brilliant."
James Horan
"It was what we talked about doing in the second half. It's pretty much always calm in our dressing room at half-time. And I couldn't really be any prouder of the display, particularly in the second half.
"Then I thought we had it lost, with Bryan Sheehan lining up there at the end. But I think we probably should have won it. And we could have lost it. So I think overall we'll take what we got, and look forward.
"The goal at the end was a killer. I don't know what was left, there was a couple of minutes left and we had a shot I think just after that, a good shooting chance that we missed that could have won it for us."
What is certain too is that Mayo intend on contesting the red card shown to Lee Keegan for an attempted kick on Johnny Buckley. Horan had already reviewed the video replay and was adamant his player was harshly sent off.
"The way I look at it, he (Keegan) was being held on to. It was like a shrug to shake him off more than a kicking action I would say.
"I'm not blaming the referee. You can see how it would be seen. But to me, if we're getting straight red cards for that, the game is going down. And we will be contesting it. Absolutely."
Bizarre
There was talk too of contesting the venue and date for the semi-final replay, in the Gaelic Grounds on Saturday evening, and unlikely as that is, Horan wasn't about to let his feelings on that go.
"I think it's bizarre, and 5pm, playing in Limerick doesn't make any sense to me but we will play wherever," he said. "Once we are on a football field we are on a football field but it doesn't make any sense.
"Croke Park is where every player wants to play, so if we can get it for Saturday week that would be brilliant.
"But look, the atmosphere in the dressing room is absolutely hugely positive, and we're looking forward to next weekend already, just getting our prep right on, and what we need to do."