GAA: Kerry late show snatches dramatic draw against Mayo in All-Ireland semi-final
Last Updated: 26/08/14 10:08am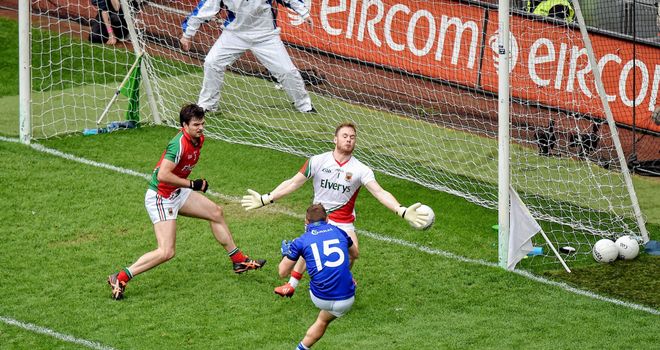 Kerry forward James O'Donoghue scores his late goal against Mayo
Mayo and Kerry must meet again next Saturday after a gripping 1-16 to 1-16 draw in their All-Ireland semi-final at Croke Park.
Despite having played 37 minutes with 14 men after Lee Keegan was sent off, Mayo dragged a second-half performance from the depths to lead by four points going into the final four minutes.
But a late James O'Donoghue goal and a point from substitute Kieran O'Leary squared matters and though both sides had their chances to win it, the game finished level.
Mayo didn't turn up at all in the first half, with Cillian O'Connor, Aidan O'Shea and Colm Boyle all registering poor misses, and for the longest time it looked like that was going to be the crucial difference between the sides.
At the other end, David Moran landed two bombs with the outside of his right boot for Kerry and five of their six starting forwards had a point from play to their name by half-time.
In the search for a primary reason why Kerry went in 0-9 to 0-5 ahead at the break, there's no need to look any further. Mayo kicked five out of 12 scoring chances in the first half, Kerry kicked nine of 13.
O'Connor was carrying the burden of responsibility for most Mayo attacks but in that first half his radar was ever so slightly off. He missed a glorious goal chance after just 10 minutes, rounding Brian Kelly but losing his footing as he attempted to roll the ball into an empty net.
Without a goal, Mayo were always going to find the task sizeable against a more accurate Kerry side, and it became gargantuan two minutes before the break when Keegan was sent off.
Keegan won a free when surrounded by Johnny Buckley and Donnchadh Walsh and in the clinch that followed, he swung a kick at Buckley. It didn't connect but the intent was enough for referee David Coldrick to decide his day was done.
It meant that they came back out with a four-point deficit to make up and short a body with which to do so. Kerry had been clinical, methodical and ruthless. For Mayo to turn that around was going to take an unlikely turn of events.
And yet, turn it did. After O'Donoghue kicked Kerry into a five-point lead straight after the restart, Mayo finally got going. 
Alan Dillon kicked a point, O'Connor stroked over a free. Mayo eschewed the high-ball tactic of the first half and started running at Kerry. Colm Boyle landed a huge kick, Dillon followed up with another from way out on the right sideline. By the 46th minute, O'Connor had drawn the sides level at 0-11 apiece.
Andy Moran came off the bench and kept the tide pushing in Mayo's direction. He beat Marc Ó Sé to his first ball and sent Jason Doherty in for a point.
But Kerry had their moments too. O'Donoghue had been reasonably well minded by Higgins but he was still able to get on enough ball to be effective. One inside pass set Walsh up for a good score and O'Donoghue himself had a massive chance for a goal on 52 minutes when he blazed over the bar from close range.
It looked very costly four minutes later when Donal Vaughan was pulled down for a penalty that O'Connor stroked home. And when O'Connor followed up with the next two points, Mayo were improbably five points up with five minutes to go.
Back came Kerry. Peter Crowley fisted a point after a good run along the endline. Moran and Sheehan swapped points before O'Donoghue's goal arrived to save Kerry.
A high ball in from Moran was fielded by substitute Kieran Donaghy and he fed the championship's outstanding forward. He doesn't miss twice.
And when O'Leary wriggled into space to kick the equaliser in the second minute of injury-time, Kerry could breathe again.
The replay will take place in Limerick's Gaelic Grounds on Saturday and will be live on Sky Sports 3.
Scorers
Mayo: C O'Connor 1-8 (1-0pen, 5f), A Dillon 0-3, A Moran 0-2, C Boyle, L Keegan, J Doherty 0-1 each.
Kerry: J O'Donoghue 1-3, D Walsh, D Moran 0-2 each, P Murphy, P Crowley, F Fitzgerald, M Geaney, J Buckley, S O'Brien, P Geaney (f), B Sheehan (f), K O'Leary 0-1 each.