GAA: Kerry captain Fionn Fitzgerald predicts tactical contest against Mayo on Sunday
Last Updated: 22/08/14 1:57pm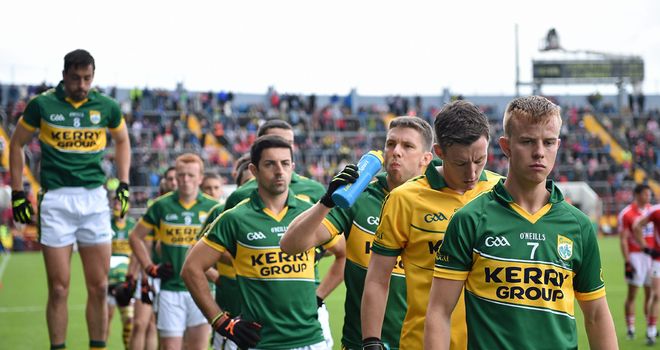 Fionn Fitzgerald, right, will captain Kerry in Sunday's All-Ireland final
Kerry captain Fionn Fitzgerald is expecting a tactical battle in Sunday's All-Ireland semi-final against Mayo.
Purists might be expecting an end-to-end contest with scores falling from the sky, but Fitzgerald says their meeting with the back-to-back All-Ireland finalists will be as tactical as the second semi-final between Dublin and Donegal.
"There might be a perception that Dublin v Donegal will be slightly different to ours," said Fitzgerald, "but I think the way the game has gone, there's going to be huge intensity in our game as well.
ALL-IRELAND SFC
SEMI-FINAL
Mayo v Kerry
Sunday, 3.30pm
Live on Sky Sports 3
"Both teams have very good systems in place and are tactically quite strong. But ultimately we do both go out to play football.
"If there's such a thing as free-flowing football anymore, I'm not too sure. But we'd like to think that we play it the best we can anyway."
Asked if, in its own way, Sunday will be as tactical as the other game, Fitzgerald said: "Absolutely, that's my point, basically.
"We tactically go about things and we have a good system going at the moment. And Mayo have their own system and they've been very, very successful with it.
"It might be different game for the onlooker but it's a really tactical type of game at this level no matter who's playing."
Scenarios
It's a far cry from just a few years ago when Kerry were able to outfox Mayo in an All-Ireland final through the entirely straight-forward ploy of kicking high ball in to Colm Cooper.
Fitzgerald is one of Kerry's new breed and as a modern player, part of his duty is to drill down into the game. He wouldn't have it any other way.
"Yeah, even over the last three or four years it's changed an awful lot. It's definitely gone that way.
"As a player, you want to be in games where you're teasing out those tactical scenarios. Everyone wants to play free-flowing football but the reality is that at this stage of the year, there's two sides to it.
"There's cutting loose and trying to play with freedom but you have to have a bit of structure and system to your game. That's what we enjoy teasing out."
Fitzgerald has just finished a Masters in Sports Performance at UL, a course that has taken him to the far reaches of the sporting earth in the course of his studies.
He spent a winter in New Zealand working with elite under-age rugby players in the Chiefs' system. Last winter, he went to Dallas where he liked up with former Clare trainer Micheál Cahill in the land of Friday Night Lights high school football.
Thinking
In short, Fitzgerald is a man who thinks about sport, who studies it intently – much like most modern players. The notion that he and his like would throw caution to the wind against Mayo any more than Michael Murphy and the rest would against Dublin is nonsense.
If nothing else, Eamonn Fitzmaurice wouldn't have him near the place if that was his way of thinking. The Kerry manager is one of the keenest tactical minds in the game, a coach who tries to lay out a plan for every scenario. What happens after that is up to his players.
"Yeah, he does," agrees Fitzgerald. "But one of the big things he does too is he empowers us to play our own game.
"There's a structure for us to play within, obviously. But the reason James (O'Donoghue) is able to play the way he plays is that we're encouraged to cut loose and have our own freedom.
"That's important as well. It was always a part of Kerry football and they day it goes, something will be wrong."
Watch Mayo v Kerry live on Sky Sports 3 on Sunday from 3pm