GAA: Ger Cunningham still perplexed by Cork's All-Ireland semi-final loss to Tipperary
Last Updated: 20/08/14 12:01pm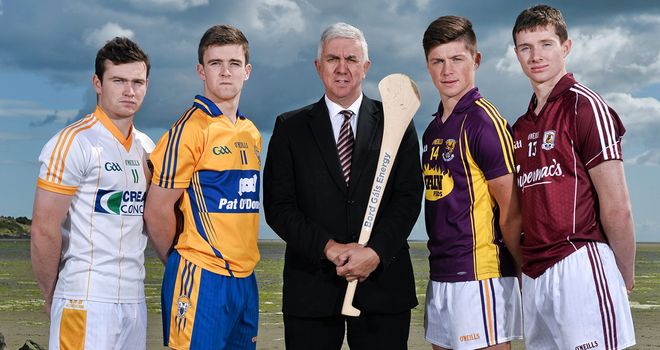 Ger Cunningham, centre, pictured at the launch of the Bord Gáis Energy All-Ireland U-21 hurling semi-finals
Ger Cunningham feels it's a bit early to sift through the wreckage of Cork's All-Ireland semi-final defeat to Tipperary.
The former county goalkeeper was a coach with Jimmy Barry-Murphy's management up until last year and the shock of their heavy defeat to the Premier County in has left him a bit nonplussed.
Cunningham was present at the sponsors' launch of this year's All-Ireland U21 hurling championship semi-finals but steered clear of the specifics of Cork's downfall.
"When you've been involved with any team it's disappointing not to get a performance," said Cunningham.
"Last year we were doing the hunting. This year, you're the hunted. It's a completely different mindset."
Ger Cunningham
"When you're competitive you take your chances and give it your best. When it doesn't work for you on the day it's very disappointing."
He feels the team's newly acquired status as Munster champions might have made more of a difference than generally accepted beforehand.
"You would hope not but I'm not sure; does your mindset change when you're going in as champions?" he said.
"Last year there wasn't a huge amount of expectation when we came through the qualifiers. We hadn't won anything and had been beaten in the Munster final and maybe players felt better able to express themselves a bit more.
"Going in as champions brings that bit of extra pressure and the fact that it was Tipperary as well and the first Cork-Tipp match in Croke Park – all of a sudden the public expectations were that bit higher. Having won Munster there was probably a different psyche to last year.
"Last year we were doing the hunting. This year, you're the hunted. It's a completely different mindset."
He also commented on issues raised by his successor as Cork goalkeeper Dónal Óg Cusack, who questioned the commitment of so much resources to the redevelopment of the county ground in Páirc Uí Chaoimh and criticised what he saw as the inadequate nature of the proposed centre of excellence.
"Basically in Cork up to now we've been chasing others in relation to development squads," said Cunningham.
"Other counties have got their act together for a while now whereas we only started ours four or five years ago. We need to fast-track this work as much as we can. That's where we're going to get the players in the future.
"The secondary schools have been suffering and we haven't been very competitive at Harty Cup level. We need to bridge that gap."