MLB: Chicago Cubs end Los Angeles Dodgers' six-game winning streak
Last Updated: 02/08/14 10:01am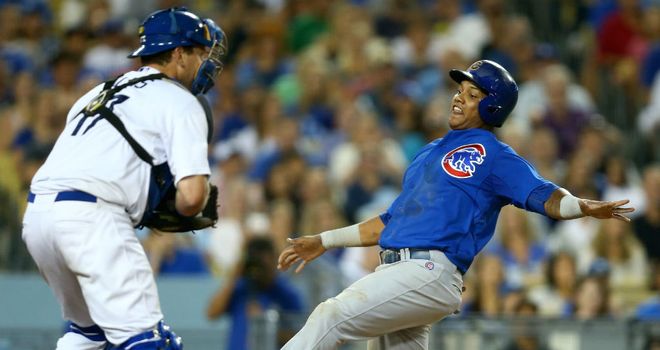 Starlin Castro (R): Made up for an early error with three hits and three runs for the Chicago Cubs
The Chicago Cubs ended the Los Angeles Dodgers' six-game winning streak in brutal fashion, thumping the National League West leaders 8-2, on Friday.
A throwing error from the Cubs' Starlin Castro allowed the Dodgers' Dee Gordon to score in the first inning but the visitors responded in the second through Luis Valbuena's homer.
Chicago scored three times in the third and fifth innings to eventually win by six runs.
MLB results
Orioles 2 Mariners 1
Indians 12 Rangers 2
Red Sox 4 Yankees 3
Rays 3 Angels 5
White Sox 10 Twins 8
Astros 3 Blue Jays 1
Athletics 0 Royals 1
Nationals 1 Phillies 2
Marlins 2 Reds 5
Mets 1 Giants 5
Cardinals 4 Brewers 7
Diamondbacks 4 Pirates 9
Dodgers 2 Cubs 8
Padres 10 Braves 1
Tigers 4 Rockies 2
Castro made up for his error with three hits and three runs, and Valbuena finished the game with two RBIs, while Cubs pitcher Kyle Hendricks conceded just four hits over seven innings on the mound.
The win was the Cubs' second in a row, although they remain rooted to the bottom of the NL Central standings.
The Dodgers advantage in the NL West was cut to two-and-a-half games, as the second-placed San Francisco Giants cruised past the New York Mets 5-1.
Giants pitcher Ryan Vogelsong pitched all nine innings and kept the Mets to just two hits, striking out five batters.
It was a good day for both teams from Chicago with the White Sox prevailing 10-8 against the Minnesota Twins, despite trailing 5-2 midway through the third inning.
Improving Angles
In the American League West, the Los Angeles Angels reduced the Oakland Athletics' lead to just one game.
Angels centre-fielder Mike Trout hit his 25th home run of the season to get his team started in their 5-3 victory over the Tampa Bay Rays, while the Athletics lost 1-0 at home to the Kansas City Royals.
Oakland suffered their second straight defeat, while the Angels have won their past two games to improve their chances of topping the AL West.
AL East leaders Baltimore Orioles edged out the Seattle Mariners 2-1, the AL Central's top team - the Detroit Tigers - defeated the Colorado Rockies 4-2, while in the NL Central, the first-placed Milwaukee Brewers triumphed 7-4 against the St Louis Cardinals.
In the NL East, top team the Washington Nationals suffered a shock 2-1 defeat to bottom side the Philadelphia Phillies.
The Cleveland Indians thrashed the Texas Rangers 12-2, the Boston Red Sox edged out the New York Yankees 3-2, the Cincinnati Reds defeated the Miami Marlins 5-2 and the Houston Astros won 3-1 against the Toronto Blue Jays.
Elsewhere, the Pittsburgh Pirates triumphed 7-4 over the Arizona Diamondbacks and the San Diego Padres crushed the Atlanta Braves 10-1.