GAA: Armagh record three-point victory over Tyrone in All-Ireland SFC qualifier in Omagh
Last Updated: 13/07/14 6:27pm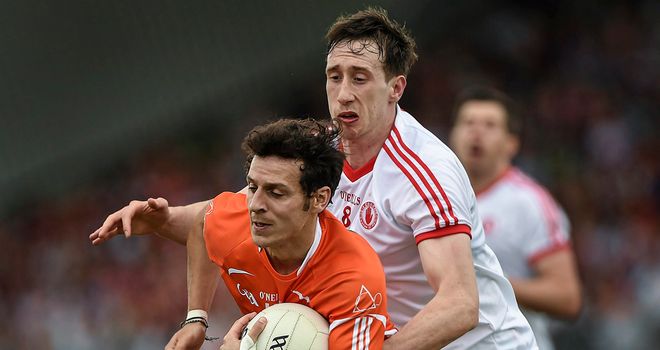 Armagh forward Jamie Clarke is tackled by Colm Cavanagh
Tyrone kissed goodbye to the 2014 championship after a 0-13 to 0-10 defeat to neighbours Armagh at Healy Park.
It was far from pretty, nor indeed particularly exciting, but that won't matter for Armagh, who now go into draw for round 3A of the All-Ireland SFC qualifiers.
It was a desperately lethargic performance from Mickey Harte's team, who were reduced to 14 men at the end of the first half when Mattie Donnelly was sent off.
It was a hugely disappointing way to go out too, before a home crowd who made up the vast majority of the attendance on 10,819.
Armagh definitely played the better football for longer periods, and were deserving winners despite doing their very best to keep their opponents in the game by hitting a flurry of wides in the closing stages, while Tyrone goalkeeper Niall Morgan also made a couple of crucial blocks.
But key scores from Jamie Clarke, Tony Kernan and later Andy Mallon, Mark Shields and substitute Rory Grugan, ensured that Paul Grimley's team kept their advantage intact until the end.
It clearly didn't help Tyrone's cause that they went the last 20 minutes without a single score, having been 0-10 apiece on 50 minutes.
Immediate
Tyrone were also two points down at the break but promptly levelled up as O'Neill's introduction made an immediate difference.
Inevitably that prompted Armagh into a response, and suddenly they made the extra man count by hitting the next three points in quick succession, including a free from substitute Aaron Kernan.
Yet Tyrone appeared incomprehensibly lazy, disinterested almost, in the first half – beyond the opening seconds when they livened up for some pushing and shoving with their opponents.
It was typically silly stuff, but resulted in yellow cards for Tyrone's Donnelly and Armagh's Aidan Forker, and that came back to haunt Donnelly when he picked up a second yellow card on 31 minutes for a foul on Tony Kernan.
Tony Kernan hit three frees and one '45, and Clarke also added two frees, and with Stephen Harold scoring one from play, Armagh led 0-7 to 0-3 as the half wound down.
Tyrone did claw two points back, both coming through frees of Cavanagh, although he was well short of his usual influence on the game.
Tyrone also lost defender Ronan McNamee to concussion just before the break, bringing on Conor Gormley instead.
Indeed it was a uphill battle for most of the second half, despite the brief surge at the beginning of it, and in the end Armagh should have been even more than three-point winners.
Scorers
Armagh: T Kernan 0-4 (3f), J Clarke 0-3 (2f), A Mallon, M Shields, S Harold, S Campbell, A Kernan (f), R Grugan 0-1 each.
Tyrone: S Cavanagh 0-5 (5f), D McCurry 0-2 (2f), N Morgan (f), K Coney, N McKenna 0-1 each.