MLB: Blue Jays bag huge comeback win over Reds
Last Updated: 21/06/14 9:00am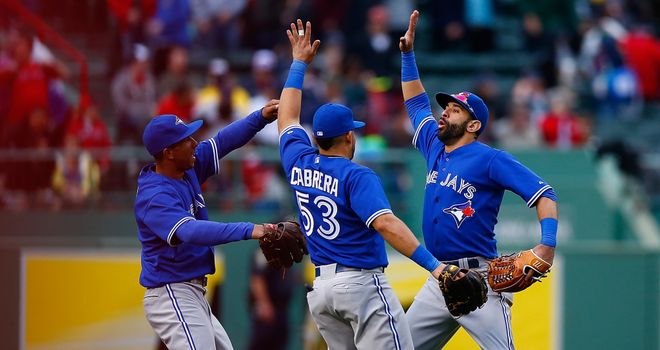 Toronto Blue Jays celebrate their win
Edwin Encarnacion hit two three-run homers as the Toronto Blue Jays pulled off the second-biggest comeback in the franchise's history to beat the Cincinnati Reds 14-9 at the Great American Ball Park.
The Blue Jays had to rally from an early eight-run deficit, with Encarnacion most notably connecting off Mat Latos and homering off Sam LeCure before Brett Lawrie and Juan Francisco adding homers to put Toronto out of sight.
The franchise's greatest Major League Baseball recovery came in 1989 as they overcame a 10-run deficit to beat the Boston Red Sox 13-11 in 12 innings.
The Atlanta Braves are back on top in the NL Eastern Division after deposing previous leaders the Washington Nationals with a 6-4 win at Nationals Park.
At Progressive Field, JD Martinez hit a three-run homer as the Detroit Tigers held on for a 6-4 victory over the Cleveland Indians.
Anthony Rizzo's double and Starlin Castro's homer laid the foundations for the Chicago Cubs' 6-3 victory over the Pittsburgh Pirates at Wrigley Field and Jarred Cosart threw eight scoreless innings to lift the Houston Astros to a 3-1 win against the Tampa Bay Rays.
Over at Marlins Park, Miami clinched a 3-2 triumph over the New York Mets, whose Big Apple neighbours were busy beating the Baltimore Orioles 5-3.
Brian Dozier's RBI-single in the bottom of the ninth inning steered the Minnesota Twins to a 5-4 success at the expense of the Chicago White Sox, the Philadelphia Phillies condemned the St Louis Cardinals to a 5-1 defeat at Busch Stadium, and the Seattle Mariners were 7-5 victors over the Kansas City Royals.
Elsewhere, the Arizona Diamondbacks downed the San Francisco Giants 4-1, the Milwaukee Brewers outscored the Colorado Rockies to win 13-10 and the San Diego Padres edged a 6-5 victory over the Los Angeles Dodgers.
The Oakland Athletics sneaked past the Boston Red Sox at the O.co Coliseum, winning 4-3, and the Los Angeles Angels handed the Texas Rangers a 7-3 defeat in Anaheim.