Gymnastics: Great Britain's Rebecca Downie becomes European champion
Last Updated: 18/05/14 6:12pm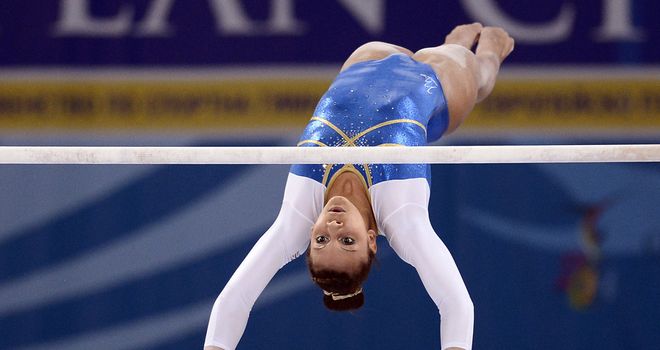 Rebecca Downie: Wins gold on the uneven parallel bars in Sofia
Great Britain's Rebecca Downie ended her eight-year quest for an individual gymnastics medal after winning gold on the uneven bars at the European Artistic Championships in Sofia on Sunday.
The 22-year-old from Nottingham scored 15.500 to pip Olympic champion Aliya Mustafina (15.266) to top spot in the competition.
"It still hasn't sunk in yet, it's the most amazing thing ever," Downie said afterwards.
"For me to take the bars, it's just been an incredible day."
She added: "I'd say one of my biggest gymnastic idols is Aliya Mustafina; watching her in training and the way she competes, I love to watch her.
"It's pretty crazy to say I've just beaten her to a European bar title.
"She said congratulations. We're fairly good friends and she always congratulates whether she wins or loses."
"There was a doubt in the back of my mind going for the big routine but I knew if I pulled it off I could win the gold medal.
"To beat the Olympic champion is unbelievable but I knew it was possible. I've worked so, so hard on this. You can see the emotion when I stuck my dismount, I knew it was going to be a medal."
Britain's Rebecca Tunney was edged out of a medal by Russia's Daria Spiridonova, who took bronze, while 16-year-old Bristolian Claudia Fragapane finished sixth in the vault.
Junior medals
In the junior section, Britain's girls won another four medals on Sunday, taking their overall tally for the championships to six.
Fifteen-year-old Ellie Downie, the younger sister of Rebecca, claimed gold in the vault to add to the all-round bronze she won on Saturday.
"I just can't believe it, the whole week has been incredible," Ellie said.
"I knew coming in to the vault final today having qualified in top spot that I had a good chance. I just can't put into words how much this means to me but I'm very proud."
Catherine Lyons won gold on the floor just ahead of Amy Tinkler who also won a bronze medal on the vault.