MLB: Ruben Tejada seals comeback victory for the New York Mets
Last Updated: 12/05/14 7:51am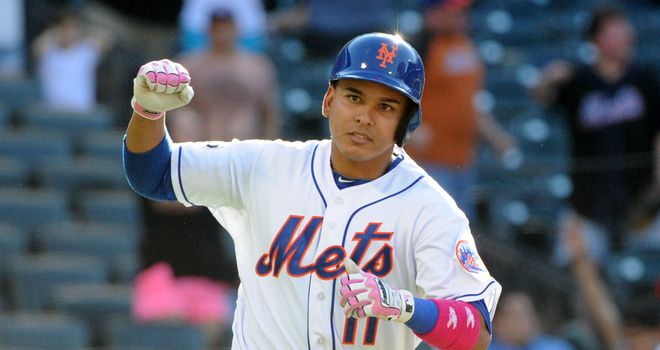 Ruben Tejada celebrates hitting a game-winning walk off single
Ruben Tejada's walk-off single secured a 5-4 comeback win for the New York Mets against the Philadelphia Phillies.
Daniel Murphy's home run contributed to a three-run ninth inning as the Mets levelled the scores and Tajeda batted in Chris Young in the 11th to seal the win.
The San Francisco Giants scored three runs in the 10th inning as they ran out 7-4 winners over the Los Angeles Dodgers while the other team in LA, the Angels, beat the Toronto Blue Jays 9-3.
Three runs in the eighth inning saw the Minnesota Twins to a 4-3 comeback victory over the Detroit Lions who maintained their five-game lead at the top of the American League East thanks to the Chicago White Sox's 5-1 loss to the Arizona Diamondbacks.
Minor upset
Derek Norris hit two three-run homers as the Oakland Athletics eased to a 9-1 win over the Washington Nationals while the Houston Astros were 5-2 winners over the Baltimore Orioles.
The Cincinnati Reds caused a minor upset as they beat the Colorado Rockies 4-1 while the Atlanta Braves claimed a 5-2 win over the Chicago Cubs.
The Cleveland Indians were 6-5 winners over the Tampa Bay Rays and the Milwaukee Brewers beat the New York Yankees by the same score.
The Boston Red Sox beat the Texas Rangers 5-2, the Kansas City Royals were 9-7 winners over the Seattle Mariners, the San Diego Padres beat the Miami Marlins 5-4 and the St Louis Cardinals overcame the Pittsburgh Pirates 6-5.