Sir Roger Bannister reveals he is suffering from Parkinson's disease.
Last Updated: 02/05/14 1:13pm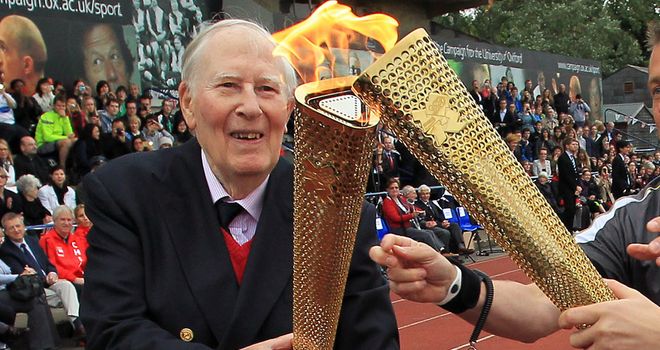 Sir Roger Bannister lights the Olympic flame back in 2012 at the track where he made athetics history
The first man to run a sub four-minute mile, Sir Roger Bannister, has revealed he is suffering from Parkinson's disease.
Now, 85, Bannister made the announcement just a week before the 60th anniversary of his great achievement in Oxford.
He said he was diagnosed with Parkinson's disease three years ago and was having problems walking.
He told the BBC: "I am having trouble with walking. Ironically, it is a neurological disorder - Parkinson's.
"There's a gentle irony to it. I have seen and looked after patients with so many neurological and other disorders that's I am not surprised I have acquired an illness. It's in the nature of things.
"I am being well looked after and I don't intend to let it interfere. One of my pleasures in life - apart from running - has been walking.
"But intellectually I am not (degenerating) and what is walking anyway!"
Bannister broke the four-minute barrier on May 6, 1954 at Oxford's Iffley Road Track, posting a time of three minutes, 59.4 seconds, thanks to the assistance of two other British athletics greats - Sir Christopher Chataway and Chris Brasher.
Brasher, who helped found the London Marathon in 1981, died aged 74 in 2003; Chataway passed away at 82 in January of this year; Bannister, meanwhile, retired from athletics in 1964 to become a neurologist.