Challenge Cup: Catalan Dragons happy to win ugly against London Broncos
Last Updated: 05/04/14 10:53am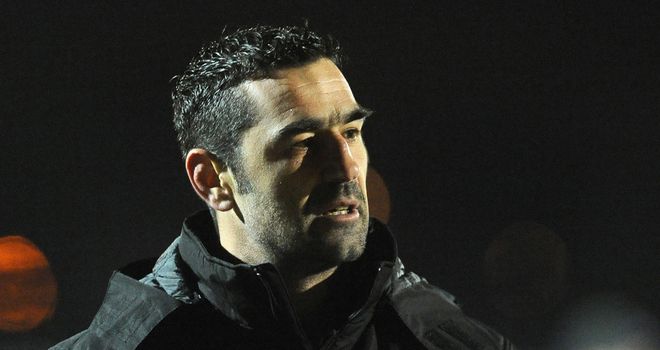 Laurent Frayssinous: 'A win is a win'
Catalan coach Laurent Frayssinous was not entirely satisfied with his team's display against London Broncos, despite recording a 40-24 victory which saw them safely through to the fifth round of the Tetley's Challenge Cup.
Louis Anderson touched down twice for the Dragons in what was only their second win of the year, with Leon Pryce, Thomas Bosc, Antoni Maria, Daryl Millard and Morgan Escare also crossing as the French side outscored their Super League rivals by seven tries to four.
Denny Solomona, Mason Caton-Brown, Iliess Macani and Nick Slyney replied for London to keep the scoreline looking more respectable, and, although Frayssinous was happy with the result, he admitted it was not a performance for the purists.
He said: "The most important thing tonight is that we won and, as you say in England, a win is a win.
"It wasn't pretty, but we are through to the next round and we are happy with that.
"It is never easy against London. Even if you look at a result and they have lost by 50, you know they have been tough to beat and that it wasn't easy, it will never be easy against London. And it was the same again tonight, they kept coming back at us over and over again."
Frayssinous reserved special praise for his half-back Pryce, however, saying: "He was very good for us tonight. I think that if he wasn't there we would have struggled to get the win.
"Every time he touched the ball, he did something special for his team-mates."
Positives
Broncos assistant coach Joe Grima was disappointed to see his side's cup challenge ended so soon, but was still able to take positives from the game.
"It's not often in rugby league that you will score 24 points and get beat, but that's probably where the London Broncos are at the moment," he said.
"There was a period in the second half where the Catalans scored three back-to-back tries, which really hurt us.
"That probably shows where the Catalan Dragons are too. They've played particularly well in the last four weeks and that was probably typified by us scoring 24 points, yet still not winning the game.
"At half-time the team were incredibly confident they could get a result, given where they were situated and the opportunities that had been given to them, particularly in the last eight minutes of the first half."
Despite giving away 40 points to their opponents, the manner in which Catalan's tries were scored was a source of some comfort for Grima.
He said: "The majority of the Catalan tries were scored on our edges or through broken play. Any coach will tell you right the way from under-eights up that it's better to concede tries out there than in the middle.
"We did that tonight. Over the coming weeks we now have to get our edges as solid as our middles."