Team-by-team guide to the American League contenders in 2014
Last Updated: 26/03/14 3:37pm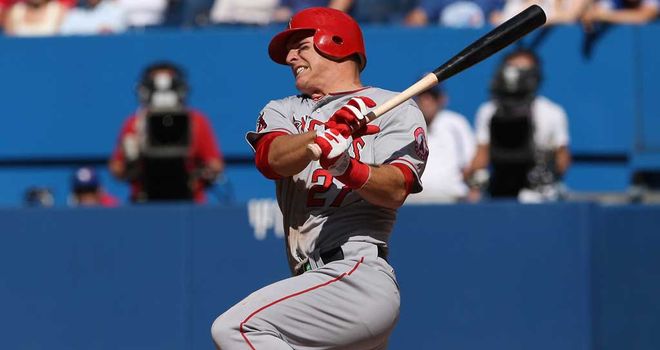 Mike Trout: Will Angels slugger lead his team to the playoffs and win the MVP?
Team-by-team guide to the contenders, the pretenders and the likely failures in the American League in 2014.
EAST
BOSTON RED SOX: The reigning World Series champions were unable to avoid losing key pieces from their team over the winter, most notably speedy outfielder Jacoby Ellsbury.
The pressure is firmly on rookie Xander Bogaerts and Ellsbury's replacement Jackie Bradley Jr, but their pitching looks just as solid as 2013 with the addition of Jake Peavy in place of Ryan Dempster. Still contenders but this is, as always, a tough division.
NEW YORK YANKEES: They may be experienced (read old) but they Yankees will push for a World Series ring in Derek Jeter's final season. Ellsbury brings speed while Carlos Beltran, Alfonso Soriano and Brian McCann bring power to their line-up which could be formidable if everything comes together.
Masahiro Tanaka could prove a shrewd or foolish signing, given the expense, but the Japanese pitcher is one of the best to come from his country and he joins a rotation full of experience, plus the returning Michael Pineda who could be a huge addition. Likely division winners, definite championship contenders.
TAMPA BAY RAYS: Pitching will be the strength of this team in 2014 with David Price starring and Alex Cobb the star in waiting. Cobb is back after a nasty head injury last year, something team-mate Matt Moore was lucky to escape in Spring Training.
Evan Longoria will look to better 32 home runs from the middle of an order that could well put them in contention for the playoffs. Look for Wil Myers to show the promise that has had him touted as one of the sport's biggest prospects for some years.
TORONTO BLUE JAYS: Big spending disappointments last year, the Blue Jays have a lot to prove in a division that makes it even tougher for them. They desperately need a full season from Jose Bautista, who could return to the 40 home run hitter he was in 2010 and 2011.
But it is their pitching that seems likely to keep them out of the post-season. Knuckleballer R.A. Dickey was a huge failure last season, but he improved in the second-half and needs to continue that. The rest of the rotation is full of question marks though.
BALTIMORE ORIOLES: It was all about Chris Davis last year as he exploded for a league-leading 53 home runs in a season the Orioles looked like ending in the playoffs at one point. More of the same will be needed from him and Adam Jones to stay in touch.
They spent big to add Ubaldo Jimenez to the front of their rotation, but expect Chris Tillman to be the star of this bunch, which might be a starter short of contending. The 'pen is solid but a lot is being asked of new closer Tommy Hunter.
VERDICT: Jeter gets his dream send-off with a divisional championship but it turns into a tight race with the Rays.
CENTRAL
DETROIT TIGERS: Last season eventually proved disappointing for the Tigers, who clearly harboured expectations of winning the World Series but fell to the Red Sox in the AL Championship Series.
Their recruitment has not stopped with Ian Kinsler coming in to boost the top of their line-up and play second base, but after all that, things will still revolve around future Hall of Famer Miguel Cabrera. He will have to make up for the loss of Prince Fielder and injuries have already struck a couple of their key players.
Pitching remains about the strongest in the Conference and could get even better if Justin Verlander returns to his Cy Young form. Joe Nathan comes in as their new closer and that's not exactly a downgrade either.
CHICAGO WHITE SOX: Their best chance of a prize this season could be Rookie of the Year with first baseman Jose Abreu and outfielder Avisail Garcia definitely players to watch, but the rest of their line-up has massive question marks, either based on talent or lack of experience.
Chris Sale is a legitimate Cy Young candidate at the top of the rotation and Jose Quintana has been given a big pay-rise in the hopes he will continue to progress, but their bullpen looks a bit of a mess and Nate Jones as a rookie closer - not for me.
CLEVELAND INDIANS: One of the surprise packages of last season, it will be tough for the Indians to match their 2013 success, but such is the gritty nature of their roster maybe the dream remains alive.
They have shone in Spring Training and in Jason Kipnis have one of the best second basemen around, with Yan Gomes an up and coming catcher who allows Carlos Santana to spend more time at DH. Pitching could be the problem with only Justin Masterson looking a reliable starting option - the loss of Ubaldo Jimenez is big.
KANSAS CITY ROYALS: Winning record last season, hopes for a lot more this time around. They have no superstars but DH Billy Butler, first baseman Eric Hosmer and catcher Salvador Perez are among the better players in their positions and they could well contend again.
James Shields will be relied on for plenty of innings and 16+ wins, and he should manage both, but much will depend on the lower end of their rotation where rookie Yordana Ventura is worth looking out for - he's one of the new 100+mph hurlers.
MINNESOTA TWINS: Sorry Twins fans, but it is going to be a long season for you. Possibly even worse than 2013 and possibly including the horror of 100+ losses.
The line-up has little power, little speed and little going for it, almost certainly the worst in the AL. Pitching might be a little better but it needs to be and Ricky Nolasco and Phil Hughes will have to justify the big money spent on them this winter.
VERDICT: Detroit really should win the division but those injuries before the season even kicked off have to be a worry, certainly enough to see them out of the World Series equation. This could be a close three-horse race with Kansas City the team to watch out for.
WEST
OAKLAND ATHLETICS: Looking for a third divisional title in a row, the A's will have to go to work without likely No 1 starter Jarrod Parker, whose season ended before it could even begin.
They have the pitching depth to contend again - look out for Dan Straily to make a big improvement - and Jim Johnson's signing gives them an established closer at the end of a bullpen with plenty of potential.
But can they score enough runs? Yoenis Cespedes needs to kick on to the 30+ home run level, Brandon Moss needs to cut back on the strikeouts and Coco Crisp needs to tune in to whatever inspirational music he was listening to last season after a career best mark in homers.
LOS ANGELES ANGELS: Last season was a massive disappointment with the loss of Albert Pujols not the only thing to blame in them dropping 18 games behind the A's.
Pujols is back, Mike Trout could be the AL MVP after finishing second in 2013, and if they get a decent contribution from new 3B David Freese, they will be there or thereabouts.
Pitching is something of an issue unless Hector Santiago proves a shrewd acquisition and there are questions in the bullpen as well, barring likely closer Ernesto Frieri.
TEXAS RANGERS: Is it time for the Rangers to get back to the top of the division? They have certainly spent money as if they feel it is with Prince Fielder and Shin Soo-Choo adding more power to a line-up that didn't really need it.
But as usual, it could be their pitching that lets them down, especially with the only star - Yu Darvish - missing his first start and possibly more with a neck injury. Without him, it would be a massive struggle, even though Martin Perez looks to be a name to watch for the future.
SEATTLE MARINERS: This could be the most lop-sided roster in baseball with two stars - 2B Robinson Cano and pitcher Felix Hernandez - and not a lot else unless some of their younger players progress quicker than expected.
The additions of Corey Hart and Logan Morrison will help, but both have injuries to overcome and Spring Training has not been kind to their rotation with Hisashi Iwakuma and prized prospect Taijuan Walker unlikely to feature until May. A slow start could kill their playoff hopes.
HOUSTON ASTROS: Last year, they needed a miracle in their new division. This year, they need a miracle in their second season out West. The Astros have holes everywhere apart from the sliding roof at Minute Maid Park.
Apart from Jose Altuve and winter addition Dexter Fowler their line-up is awful - watch out for shortstop Carlos Correa though if he is called up - and bar Scott Feldman the pitching is just as bad. 100+ defeats is more probable than possible.
VERDICT: Toss a coin three times, and you will get three different winners of this division. Oakland, Texas and the Angels all should contend but you wouldn't risk your mortgage on any of them. If pushed, and Yu Darvish's injury proving not too serious, give the edge to the Rangers.