Six Nations: Morgan Parra, Antonie Claassen and Remi Lamerat back in France squad
Last Updated: 25/02/14 9:22am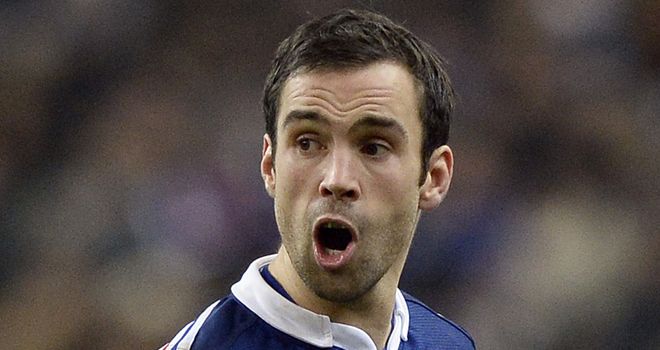 Morgan Parra: Back in the France fold, at least temporarily
Morgan Parra, Antonie Claassen and Remi Lamerat have all been called into the 30-strong France squad to prepare for the Six Nations Championship match against Scotland in Edinburgh on Saturday, March 8.
The changes come in the wake of Les Bleus' humiliating 27-6 loss to Wales in Cardiff which wrecked hopes of a first Grand Slam since 2010.
It had been widely expected that Parra, who was first choice scrum-half for France at the 2011 World Cup in New Zealand, would be brought back into the squad after a successful return from injury.
But he was red-carded for head-butting an opponent while playing for his club Clermont in the French Top-14 league on Saturday.
He is due to go before a disciplinary committee and an eventual suspension could rule him out of the Scotland game.
Winger Marc Andreu drops out of the squad to make way for Parra while uncapped centre Lamerat, who plays for French champions Castres, owes his call-up to the unavailability of Wesley Fofana, who sustained a cracked rib in the game against Wales.
Coach Philippe Saint-Andre also gave call-ups to flanker Claassens - who replaces the injured Yannick Nyanga -and Bernard Le Roux as well as prop Rabah Slimani, who was red-carded in the win over Italy.
France end their 2014 Six Nations campaign against Ireland in Paris on March 15.
France squad:
Forwards: Vincent Debaty (Clermont) Thomas Domingo (Clermont), Yannick Forestier (Castres), Brice Mach (Castres), Dimitri Szarzewski (Racing-Metro 92), Nicolas Mas (Montpellier), Rabah Slimani (Stade Français), Alexandre Flanquart (Stade Français), Yoann Maestri (Stade Toulousain), Pascal Papé (Stade Français), Sébastien Vaahamahina (Perpignan), Virgile Bruni (Toulon), Alexandre Lapandry (Clermont), Wenceslas Lauret(Racing-Métro 92), Bernard le Roux (Racing-Metro 92), Damien Chouly (Clermont), Antonie Claassen (Castres)
Backs: Jean-Marc Doussain (Stade Toulousain), Maxime Machenaud (Racing-Métro 92), Morgan Parra(Clermont), Jules Plisson (Stade Français), Rémi Talès (Stade Français), Mathieu Bastareaud (Toulon), Gaël Fickou (Stade Toulousain), Remi Lamerat (Castres), Maxime Mermoz (Toulon), Yoann Huget (Stade Toulousain), Maxime Médard (Toulouse), Hugo Bonneval (Stade Français), Brice Dulin (Castres).