Trio hold key
Chelsea sealed top spot in Group E with a 1-0 win over Steaua Bucharest on an underwhelming evening at Stamford Bridge. But with Willian impressing alongside Eden Hazard and Oscar, the attacking midfield zone looks the one area of the field Jose Mourinho does not have to worry about...
By Adam Bate - Follow @GhostGoal. Last Updated: 11/12/13 10:48pm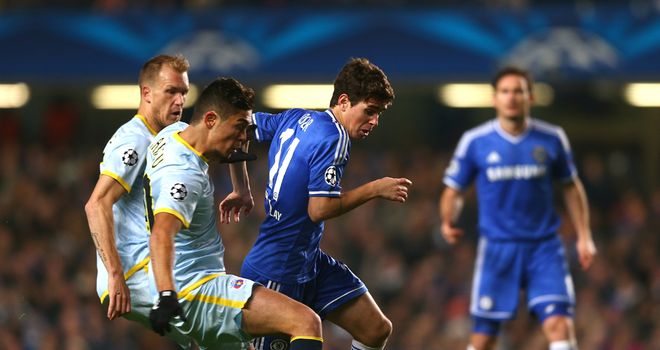 Chelsea needed a win to secure top spot in Group E and duly completed the job with a 1-0 win over Steaua Bucharest at Stamford Bridge. Demba Ba bundled home the opener before the break and while they dominated the game, that was the end of the scoring.
After a worrying defeat at Stoke last weekend, the performance is unlikely to assuage fears that the Blues remain defensively vulnerable and wasteful in attack. But could their creative midfielders be enough to make up for these problems?
Here we use Opta data to look at how Chelsea's marauding full-backs allowed the team's trio of attacking midfielders to combine well in support of their striker.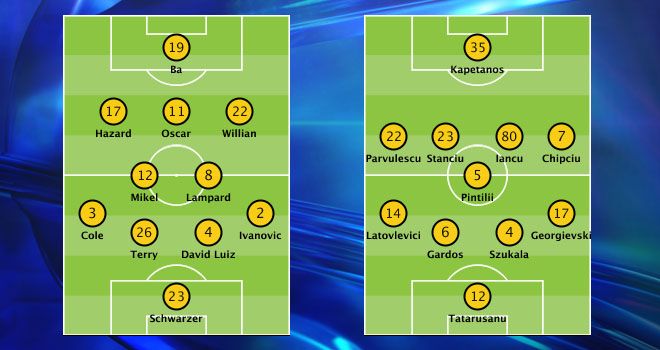 Chelsea v Steaua Bucharest starting formations
Selection
Jose Mourinho restored Ashley Cole to the starting line-up at left-back as he named an experienced Chelsea team despite making seven changes. Veteran Mark Schwarzer was selected in goal, while Frank Lampard came back into the side to partner John Obi Mikel in midfield.
John Terry started his fourth game of the month with David Luiz alongside him in the centre of defence. Willian was picked together with Eden Hazard and Oscar in an attacking midfield role in support of lone striker Ba as Mourinho continued with his familiar 4-2-3-1 formation.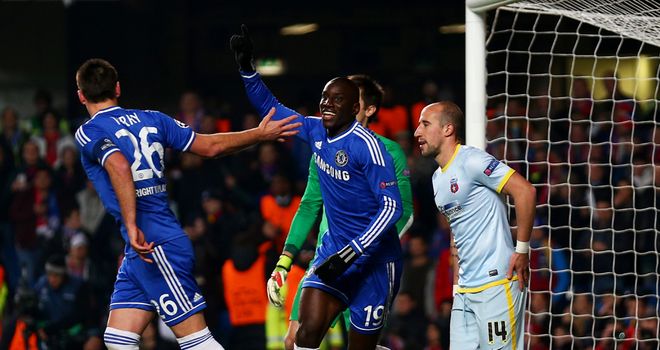 Demba Ba got the only goal of the game as Chelsea edged past Steaua Bucharest
Where it was won and lost
"I can't work out why one of these strikers isn't banging the ball in the back of the net with that talent and creativity behind them," said Sky Sports pundit and former Chelsea manager Glenn Hoddle before kick-off. So Ba's early goal offered hope that this would be the night for one of the team's forwards to show how it is done.
The Senegal striker forced the ball into the net after Daniel Georgievski failed to deal with Oscar's flick-on from a Willian corner. Sadly, Ba was unable to add to that goal and even gave a reminder of why Mourinho has rationed his performances this season when he fired over from close range after the break, despite Willian presenting him a clear-cut opportunity.
Mourinho: Goals needed
"I am not happy with the two boxes," Mourinho had told Sky Sports in his pre-match interview and there was further evidence for that assessment on Wednesday. For all Chelsea's dominance, the home side were cut open on the few occasions Steaua did attack - Gabriel Iancu scuffing wide after running in behind Terry in the first half.
Fortunately, while Mourinho has cause for concern at both ends of the field, his attacking midfield options look superb. "At this moment, the three players who play behind the striker are getting exactly the right dynamic we want them to give and we are creating lots of chances," the Portuguese coach had stated prior to kick-off. There was plenty of proof of that spark against Steaua.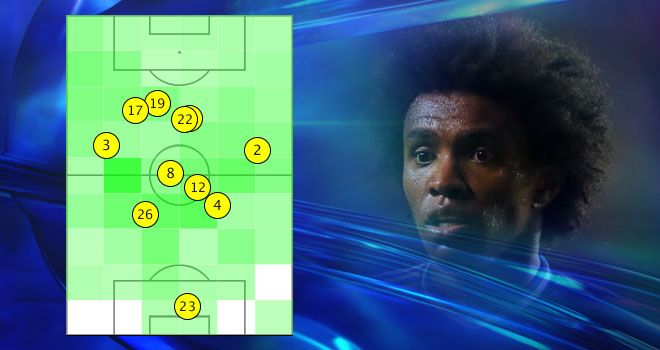 Chelsea's attacking midfielders interacted well as the full-backs provided the width
Cole's form has been below his usual standards this season but he remains a more natural source of width for the team than the right-footed Cesar Azpilicueta at left-back. The average position statistics show how Cole's advanced role - mirrored by Branislav Ivanovic on the right - allowed the team's attacking midfielders to work closer together and search for pockets of space inside.
The relationship between Hazard and Oscar continues to develop and the interaction of the pair alongside Willian was a feature of Chelsea's work in the final third. Hazard's most common pass recipient was Oscar and vice versa. The Brazilian, in particular, has repaid the faith of his manager in the summer and the howls of incredulity that greeted Juan Mata's initial displacement have quietened.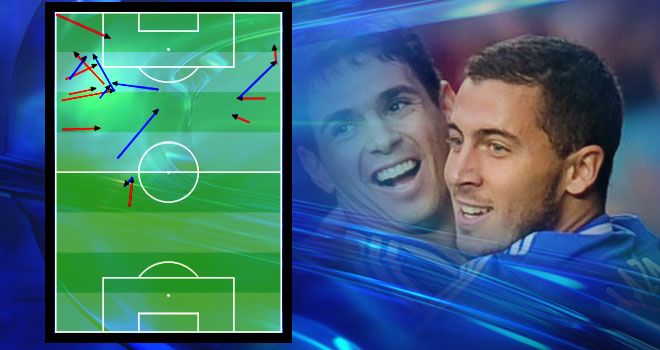 Eden Hazard (red) and Oscar (blue) found each other regularly in their 65 minutes together
But perhaps the most notable development in this final Champions League group game was the eye-catching performance of Oscar's compatriot Willian. The late summer acquisition may not have addressed an apparent weakness in the squad but this was a confident display that highlighted his qualities.
Dribbling at the Steaua defence, committing opponents and showing good movement at pace, there was also end-product to his game. The 25-year-old signing from Anzhi Makhachkala created five chances for his side - two more than anyone else on the pitch. "Willian is really coming alive as a Chelsea player," said Hoddle.
Chelsea v Steaua - Chances created
Player
Club
Chances created
Willian
Chelsea
5
Eden Hazard
Chelsea
3
Paul Parvulescu
Steaua
3
Nicolae Stanciu
Steaua
2
Whether that's going to be enough remains to be seen. "They haven't got anyone there in the midfield who is really going to unlock the door from a distance," added Hoddle. "In the last third, with the three skilful players they have, it gets tight and if you bank up it is ever so tight for them. They need someone in that middle third who can take someone out with one pass. They haven't got that at the moment."
That was shown in the way Mikel and Lampard were content to play sideways passes at a relatively slow tempo and rely on those ahead to create. Defence. Midfield. Attack. It seems everywhere you look with this Chelsea team there is potential to improve. But that creative band of three could yet carry Mourinho's side to silverware this season.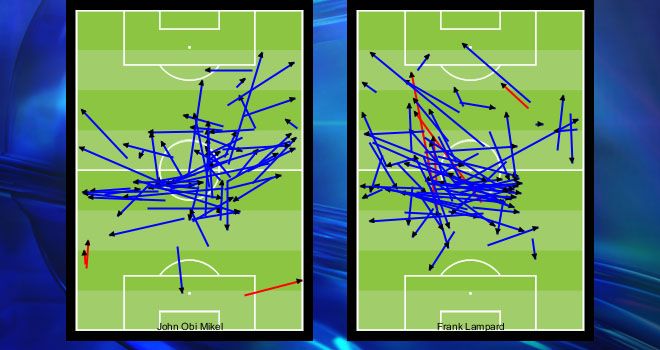 John Obi Mikel and Frank Lampard kept the ball but failed to progress Chelsea up the pitch
Mourinho's view
"We would like to have won the game with more goals and more emotions for the supporters. But we were in control from the first minute. We got the goal, we had the chances, we had the corners and the dominance. We were always comfortable. But when the second goal doesn't arrive, the opponent is alive. Every time we played short and fast to Oscar, Eden and Willian the team has creativity and intensity."
Glenn's view
"I don't think they'll be happy with the performance. They can improve. This was a night they could have really got some confidence behind them. If they'd have got that second goal and really gone for the throat there was a bagful there for certain players. Demba Ba might have got a hat-trick that would have given him confidence. So I think it was a missed opportunity."