Ashes paper talk
Last Updated: 08/12/13 11:41pm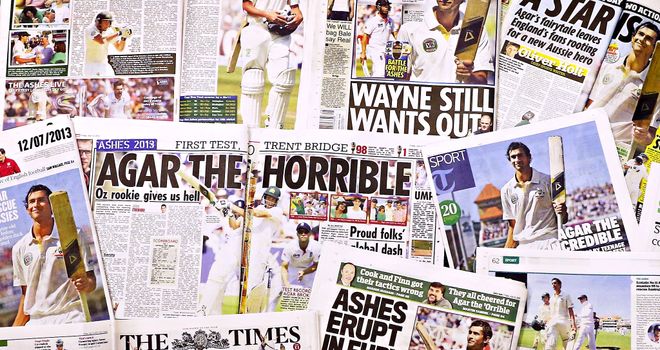 A round-up of the press in Australia as the home side close on victory in the second Ashes Test in Adelaide.
THE AUSTRALIAN
The paper concedes "petrified" England have "found some fight", but is in no doubt about the outcome of the second test in Adelaide...
"Only four wickets, some predicted rain and the memory of underachievements past stand between Michael Clarke and the continued resurrection of his much maligned team."
Columnist Gideon Haigh reckons England would be crazy to take any solace from an improved batting display - led by Joe Root - on day four.
He writes: "f anyone in the England brains trust talks about "taking away positives" from this Test, they should be not just scoffed at but sectioned.
SYDNEY MORNING HERALD
The Herald focuses on the lingering animosity between the players after a day when Mitchell Johnson and Ben Stokes squared up mid-pitch.
"Relations between the teams could degenerate to the extent that something really ugly takes place on the ground this summer," Chris Barrett writes.
Malcolm Knox goes out on a limb, praising Root's innings of 87, as he writes: 'Root Stops Rot' is a headline better suited to the gardening than the sports pages, but Joe Root's 87, the best innings of his short career, could be the first green shoot of an England revival.
HERALD SUN
The paper's Robert Craddock reckons Johnson has left misfiring England captain Alastair Cook "mentally muddled" and sees the individual contest as key to the series so far.
Cook has twice been dismissed by the left-armer in Adelaide, and Craddock writes: "Johnson has taken the Australian cricket team back in time to a rampaging era when it took down cricket teams by cutting off their heads."
Kevin Pietersen is the subject of Malcolm Conn's thoughts after his talent flickered during an innings of 53.
"Pietersen has gone half way to proving he wants to remain a Test cricketer. He has a week to complete the job, during the Third Test in Perth, or increasingly serious questions will be asked about whether the former South African still retains the fire in his belly."