World Cup: Australia playmaker Johnathan Thurston wants safe World Cup in-goal
Last Updated: 29/11/13 6:21pm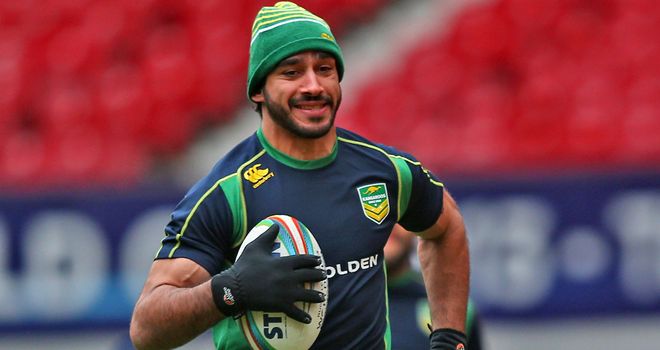 Thurston: Wants the in-goal areas as safe as possible
Australia playmaker Johnathan Thurston has urged World Cup organisers to protect players' health by making the in-goal areas for Saturday's final against Tasman rivals New Zealand at Old Trafford safe.
Kangaroos second-rower Luke Lewis was badly hurt in the tournament favourites' 34-2 group win over Fiji in St Helens.
Lewis suffered a dislocated shoulder after sliding into an advertising hoarding at Langtree Park and was ruled out of the rest of the tournament.
"Obviously the in-goal areas are very short and there's not much room from the sidelines to where the hill goes down," Thurston told a news conference after the captain's runs.
"Hopefully the tournament directors will make sure there's padding there for the boys that are going to score tries because, if there isn't, we'll see another incident like Lewey. He does his shoulder and that's not good for the game.
"It's going to be a memory the boys are never going to forget. It's giving me goose bumps just thinking about it."
Thurston on final
"Hopefully we're smart enough. We're in the biggest game in our history so hopefully there will be safety precautions there."
A World Cup spokesman declined to comment but groundstaff were starting to apply padding to the area behind the in-goal lines which has been standard practice at Old Trafford since it began hosting the Super League Grand Final in 1998.
Adjust
New Zealand captain Simon Mannering said his team would have to adjust to the short in-goal areas.
"It was the first thing I saw," he said. "It's going to take a pretty good kick to keep it in there.
"The guys out on the wing will definitely be putting their bodies on the line going for the ball.
"I'm not too sure if it's going to change too much what we're trying to do but it is something you have to be aware of."
Ivan Cleary, the Kiwis assistant coach, said: "We have to take it into a account.
"We've had a few games in this tournament where the in-goals have been short. It's not dis-similar to Headingley where we've played twice."
Saturday's final will be played in front of a record crowd for an international rugby league match after it was declared a 74,000 sell-out and Thurston said Friday's run-out at the home of Manchester United had given him "goose bumps".
World-class venue
"It's the first time I've played here," he said. "It's very exciting to be able to play at a world-class venue with so much history in a World Cup final.
"It's going to be a memory the boys are never going to forget. It's giving me goose bumps just thinking about it.
"I think the tournament has been great so far with all the venues that the nations have played at and certainly, to be playing the final at one of the most famous grounds in the world, I think they've got it right there."
Thurston will go into the game needing just six points to break Mick Cronin's 31-year record of 309 international points but he is more concerned with helping his team avoid a repeat of their shock defeat by the Kiwis in 2008.
"I don't play the game for records," said the goalkicking half-back, who is one of five survivors from the Kangaroos team stunned 34-20 to the Kiwis in Brisbane five years ago.
"It's a team game, I'm just preparing the best I can to make sure I don't let any of the boys down.
"We need 17 guys to play their best footie to beat this Kiwi side. They've got strike power all over the park."