Rugby League World Cup final: New Zealand half-back Kieran Foran aims to come up with some surprise tactics for Australia
Last Updated: 26/11/13 7:31pm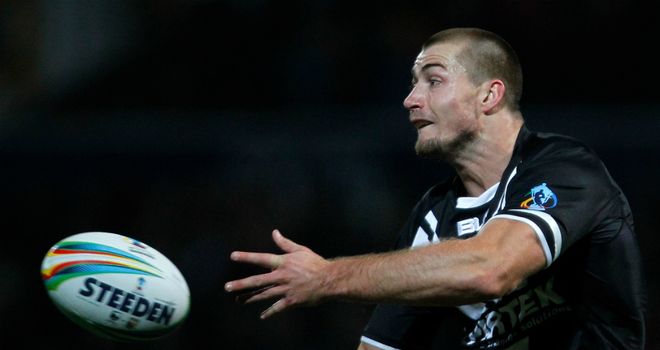 Kieran Foran: Manly half-back is plotting Australia's downfall
New Zealand vice-captain Kieran Foran says he may have to alter his game after discovering that his Manly half-back partner is ready to spill the beans ahead of the World Cup final.
Daly Cherry-Evans, who is expected to be on the bench for Australia at Old Trafford on Saturday, combined with Foran to guide the Sea Eagles to the 2011 NRL premiership and last month's Grand Final.
Cherry-Evans says he will have no qualms about passing on tips about the Kiwi stand-off, saying: "If that's what needs to be done, then I'm going to help my team get the result they're after."
After New Zealand's training session at Leigh on Tuesday afternoon, Foran said: "I'm a bit worried about that.
"Our spine is young, we're still learning, but we know that, if we are to beat Australia, then our spine has got to be better than their spine."
Kieran Foran
"If anyone knows my game, it's him. We talk about footie almost every day when we're back at training in Manly.
"He would know the strengths and weaknesses of my game better than anyone so I'm sure he'll be letting the cat out of the bag and telling them everything he knows about me.
"I've got to be prepared for that and I guess show some variation to what he expects.
"Daly and me have been playing together for three years now and we're great mates on and off the field so I think it would be a special occasion for us both to be out there playing against one another for our countries."
Experience
Cherry-Evans will provide cover for regular half-backs Johnathan Thurston and Cooper Cronk as well as hooker Cameron Smith and their long-standing combination with full-back Billy Slater is the proven spine of the Kangaroos outfit.
The Kiwis quartet of Foran, Shaun Johnson, Kevin Locke and Issac Luke have been together less than 12 months but the Manly half-back knows they must get the better of their experienced opponents if they are to retain their crown.
"Their spine is the best in the world and has been for many years," Foran said. "They'll probably finish their careers as greats if not immortals.
"Our spine is young, we're still learning, but we know that, if we are to beat Australia, then our spine has got to be better than their spine.
"I'm really looking forward to the challenge of coming up against their halves. I know Shauny is and I know Kevin Locke is looking forward to coming up against Billy Slater.
"Issac Luke has been the form nine of the competition so I don't think there's any worries there."
Injuries
The Kiwis are still wrestling with injury concerns over wingers Roger Tuivasa-Sheck (ankle) and Manu Vatuvei (groin) and second rower Frank Pritchard (hamstring), who all sat out training on Tuesday.
"All the guys that didn't train today went better than expected," said assistant coach Ivan Cleary. "Tomorrow is obviously the big day.
"I'm very optimistic. Frank Pritchard is probably behind the others at this stage."
Cleary knows the Kiwis must improve on their patchy performance which got them a last-gasp win over England in the semi-finals but believes that match will be ideal preparation for the bigger test ahead.
"Obviously it was a very emotional win and those games certainly take a while to come down from but the boys have done that and look pretty good at the moment," he said.
"We made too many errors on the weekend. We understand the Kangaroos aren't going to make the sort of errors England made and we can't afford to make as many as we did.
"Hopefully what we went through last week will put us in good stead for when the heat goes on on Saturday.
"The Aussies have got great players in every position. They're as formidable as any opponent you're going to face so if we don't perform to our best, we've next to no chance."