Ashes: Sir Viv Richards laughs off Shane Warne criticism of Alastair Cook
By Paul Higham Twitter: @SkySportsPaulH. Last Updated: 05/11/13 4:00pm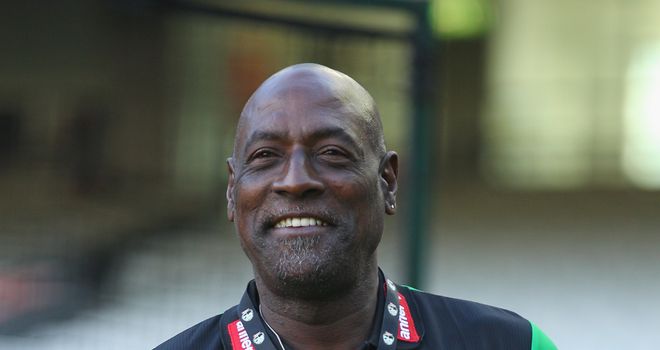 West Indies legend Sir Viv Richards: Interesting thoughts
Sir Viv Richards says Shane Warne is merely trying to stir things up and 'get up Alastair Cook's nose' ahead of the upcoming Ashes, with his talk of England being boring.
Warne said the England captain was too negative as the first verbal shots across the bows came ahead of this winter's Ashes tour Down Under.
Cook has remained cool in response, as he prepares for England's second warm-up match of the tour against Australia A on Wednesday morning.
Cook has lost just one of 14 Tests since replacing Andrew Strauss and West Indies legend Richards believes that Warne's comments were just him stirring things up.
"We all know Shane will be Shane," Richards told Sky Sports News Radio. "He's just stirring things up.
"He's an icon and a legend who does speak a lot of sense at times. But when you've been beaten, even beaten in a boring manner, you've still been beaten and you should never forget that.
Banter
"I guess it's just a little bit of banter and trying to get up Cookie's nose because I guess Australia's getting a little bit desperate at this point."
Richards says that the current Australian team needs to find the aggression and killer instinct of the teams Warne played in to have a chance of regaining the Ashes.
"The aggression is going to be of vital importance, Australia need to find that aggression of the Warnes and McGraths, so until they get that back then England would be winners again.
"But Down Under you can never count an Australian team out."
On his own West Indies, Richards says they will find their Test series in India very tough, and must take any positives they can out of.
"I hope they're going to make up some ground in Tests, but India's always a tough place to tour especially with some of the batters they have in India which are just magnificent," he added.
"For me it's going to be tough but it's good to be in a tough situation if you come out of it smelling reasonably OK - which means you would have learnt your lessons well."
Watch Australia A v England live on Sky Sports 2HD from 11pm