Elite Ice Hockey League: Belfast Giants clear at top after beating Nottingham Panthers
Last Updated: 26/10/13 8:14am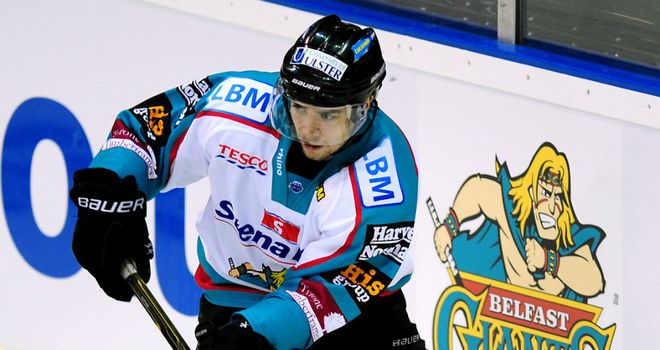 Mark Garside of the Belfast Giants in action
Elite League leaders Belfast Giants twice came from behind to move two points clear with a 4-3 victory away to Nottingham Panthers.
The home side, who had won their previous nine matches in all competitions, took the lead through David Clarke before Cody Brookwell struck back for the Giants in the first period in the Odyssey Arena.
The second period saw only one further goal, with Lynn Loyns edging the Panthers ahead again at 30.38, setting up a fierce third session.
Calvin Elfring of the Giants was first to light the lamp and see his side level once more with a shot at 48.05 and it was soon 3-2 to the Giants thanks to a strike by Robby Sandrock at 51.13 on a shorthanded play.
That was how it remained until the final minute when - with goaltender Craig Kowalski pulled - Jeffrey Szwez found the empty Panthers net with 55 seconds remaining.
Although Panthers managed a powerplay goal from Matt Ryan with 16 seconds of regulation remaining there was not enough time for the visitors to find a leveller.