Duel in Pool 2013: Michael Jamieson and Fran Halsall named in European team
Last Updated: October 17, 2013 5:45pm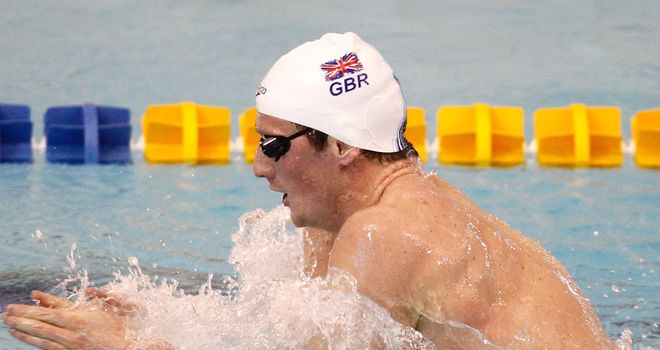 Michael Jamieson: Part of European Allstars for Duel in the Pool 2013
British swimming stars Michael Jamieson and Fran Halsall will be part of a strong European team for the 2013 Duel in the Pool against the USA in Glasgow.
Also competing for Europe will be French Olympic gold medallists Florent Manaudou, Yannick Agnel and Fabien Gilot, and three-time Olympic champion Ranomi Kromowidjojo of the Netherlands.
They will face an American team which also features some of swimming's elite names such as Ryan Lochte, Katie Ledecky, Conor Dwyer, Shannon Vreeland and Tyler Clary.
The event will be held on December 20-21 at Tollcross International Swimming Centre, home to the swimming events at next year's Commonwealth Games.
The European Allstars will feature 12 British athletes, including Craig McNally, Robbie Renwick and Hannah Miley from host country Scotland.
'Duel in the pool'
British Swimming head coach Bill Furniss believes this year's European squad is the most competitive he has seen.
Strongest
"The European Allstars features by far the strongest line up we've ever seen in what will be the third of these exciting biennial events," Furniss said.
"Both teams include a multitude of Olympic and World champions and medallists, and therefore the head-to-head promises to be a dramatic encounter.
"The USA are sending a very strong team so the challenge facing the Europeans will be immense but it will provide a great spectator event at the home of next year's Commonwealth Games."
The USA line-up also includes Jessica Hardy, Caitlin Leverenz, Anthony Ervin, Eugene Godsoe and Cullen Jones as the American attempt to retaim the title they won two years ago in Atlanta.
"We've assembled a nice mix of veteran performers and rising stars on the U.S. roster, and we look forward to racing some of the top swimmers in Europe," said USA Swimming national team director Frank Busch.
"The Duel in the Pool has become a must-watch event for swimming fans around the globe, and USA Swimming is excited to compete against a talented European Allstars in Glasgow."
Squads
Europe: Roberto Pavoni (GBR), Sophie Allen (GBR), Craig McNally (GBR), Jazmin Carlin (GBR), Robbie Renwick (GBR), Hannah Miley (GBR), Michael Jamieson (GBR), Lauren Quigley (GBR), James Guy (GBR), Francesca Halsall (GBR), Andrew Willis (GBR), Ranomi Kromowidjojo (NED), Chris Walker-Hebborn (GBR), Daryna Zevina (UKR), Florent Manaudou (FRA), Lotte Friis (DEN), Frederick Bousquet (FRA), Melani Costa (ESP), Fabien Gilot (FRA), Jeanette Ottesen-Gray (DEN), Jeremy Stravius (FRA), Camille Muffat (FRA), Yannick Agnel (FRA), Charlotte Bonet (FRA), Pal Joensen (FAR), Femke Heemskerk (NED), Yannick Lebherz (GER), Mireia Belmonte Garcia (ESP), Bence Biczo (HUN), Michelle Coleman (SWE), Konrad Czerniak (POL), Fiona Doyle (IRL), Radoslaw Kawecki (POL), Simona Baumrtova (CZE), Damir Dugonjic (SLO), Velimir Stjepanovic (SRB).
USA: Conor Dwyer, Katie Ledecky, Ryan Lochte, Shannon Vreeland, Kevin Cordes, Camille Adams, Tom Luchsinger, Simone Manuel, Chase Kalisz, Jessica Hardy, Anthony Ervin, Caitlin Leverenz, Jimmy Feigen, Micah Lawrence, Michael McBroom, Claire Donahue, Matt McLean, Chloe Sutton, Eugene Godsoe, Megan Romano, Nic Fink, Sarah Denninghoff, Shane Ryan, Sarah Henry, Cullen Jones, Meghan Hawthorne, Tyler Clary, Breeja Larson, Michael Klueh, Olivia Smoliga, Cody Miller, Gillian Ryan, Kendyl Stewart.
Duel in the Pool will be broadcast live on Sky Sports 2 HD on Friday December 20 and Saturday December 21.